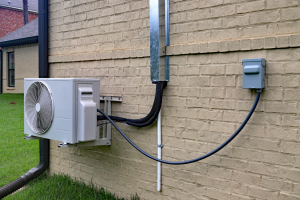 While a ductless mini-split air conditioner should perform reasonably well on its own, all systems could still use some help every now and then. Performing maintenance on a ductless mini-split system will not only improve its efficiency, but it will also prolong its lifespan.
Need help performing maintenance on your Fort pierce ductless mini-split system? Then you're reading the right article. Here is everything you need to do.
Keep Clearance Around the Condenser
Just as the condensers for central air conditioners require proper clearance in order to remain efficient, so too do the condensers for ductless mini-split systems. Therefore, if you want your ductless mini-split system to operate at maximum capacity, it's important that you keep its condenser clear of debris and objects on all of its sides.
We recommend a clearance of at least 5 feet, free of any tree branches, shrubbery, and miscellaneous objects. Failure to maintain proper clearance can have adverse effects on the functionality of your air conditioner.
Replace the Air Filter
Like all air conditioners, ductless mini-split systems are prone to taking on dirt, dust, and debris. As such, they are equipped with debris-catching air filters.
Unfortunately, over time, these air filters become excessively dirty, losing their efficacy. This is why a filter change eventually needs to be made. Generally, you're advised to change your AC air filter every 1 to 2 months. However, if you have pets in your home, more frequent changes might be needed.
Scrub the Coils
A ductless mini-split system contains two sets of coils: evaporator coils and condenser coils. In order for these coils to operate efficiently, they need to remain clean. Unfortunately, over time, these coils will inevitably become inundated with residue. When this occurs, it's important that they be cleaned, either by yourself or a professional.
To keep your coils clean, you will need to scrub them down periodically. To do this, you can simply shut off your air conditioner and apply a coil cleaner. This foam substance will sit on the coils for about 5 to 10 minutes, slowly loosening any residue that has built up over time.
It's also recommended that you apply a coil cleaner at least twice a year. However, there's no reason that you couldn't do this more often if you wish.
Watch Out for Leaks
Like central ACs, ductless mini-split systems make use of refrigerant. This refrigerant is meant to remain in the system, and is 100% necessary in order to produce cold air.
Unfortunately, should the mini-split spring a leak, this refrigerant could spill out, greatly hindering its functionality. For this reason, you'll want to keep an eye out for leaks.
If you notice a liquid substance underneath your mini-split condenser, we recommend calling in a trained HVAC technician as soon as possible. Odds are, a repair will be needed in order to return your AC to its proper condition.
Remove Debris
Because your AC condenser exists outside, it's prone to taking on miscellaneous debris. It's your responsibility to check for this debris to ensure that it isn't clogging your condenser.
Every 2 months or so, you should shut off your AC, open it up, and remove any objects that might exist within it. Everything from leaves, to grass clippings, to errant food wrappers could be lodged within the condenser.
Need Help Installing or Maintaining Your Fort Pierce Ductless Mini-Split Air Conditioner?
Interested in maintaining your ductless mini-split AC in Fort Pierce? Are you looking for professional air conditioner installation and maintenance services in Fort Pierce, Florida? If so, All American Air & Electric is the company to call.
Our team of licensed HVAC specialists has performed maintenance on countless ACs throughout the Fort Pierce area. We would be happy to do the same for yours.
Contact us today to schedule an appointment!