Backup Generators for
North Central & the Treasure Coast Florida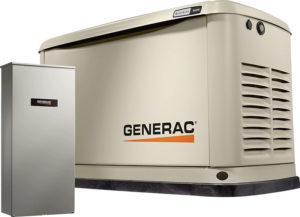 By installing a backup generator for your home or business, you ensure your comfort, security, and convenience at all times. In areas such as Florida, which are highly vulnerable to hurricanes and tropical storms, backup generators can be invaluable. At All American Air & Electric, we offer the most well-built, time-tested generators from Generac. These generators can run on liquid propane fuel or natural gas, and they are installed outside of your home or office building, just like an HVAC unit.
Features
Generac backup generators have a Mobile Link Remote Monitoring system that is free with the Guardian Series Home Standby Generators. This system allows you to check on the status of the generator on your PC, tablet, or mobile phone.
The generators automatically turn on in case of a power outage, so you don't have to worry about essential systems running out of power—even when you do no have access to your generator's control panel.
Your backup generator will be hooked up to your existing or newly installed propane or natural gas supply line, which means that you won't have to worry about refueling. There is no need to store extra gas cans.
Generac backup generators are hooked up directly to your building's electrical system. This means that you won't have any extra extension cords going through doorways or windows. You can also program the generator to power your entire building, or just essential items.
Installation Process
The installation process for a backup generator is fairly straightforward. It starts with the sizing process, which will help us figure out the type of generator that best suits your particular requirements. You can go with a small generator that will be used to power up essential items such as refrigerators or sump pumps, or you can choose a generator that will provide power to the entire building that can support most HVAC systems. The smaller generators powering just the essentials generally start at 7,000 watts. If you add air conditioning into the mix, the generator will need to be about 20,000 watts.
Next, we will consider generator placement. The generator requires access to both your electric and gas meters, so it has to be placed somewhere between the two. In an ideal situation, the two meters will be on the same side of the building. If the two meters are placed on separate sides, then the installation process is more complex. Other considerations include distance from the lot line and the operating windows of the building. The generator will have to be placed at least 5 feet away from the lot line, and about 18" or more from the side of the building. General manufacturer specifications and local ordinances recommend a distance of at least 5 feet from any window or door.
The installation process itself starts with building the pad for the generator. This can be made either of concrete, landscape timber, or gravel. Gravel is usually the best option for residential generators, because the pad can be re-leveled easily after the generator settles for a few years. With the generator set, we will install the transfer switch, conductors, control wires, and a pipe to the gas meter. The final step is the activation of the generator, and we're done!
Generator Maintenance
If you've had your generator for a while, it's best to test it and ensure it can power your home when you need it most. We offer regular inspection and maintenance services to detect and repair any problems that your generator may have. Call us before hurricane season so we can set up a maintenance schedule that fits your needs. We also have 24/7 emergency services, so we can respond quickly if your generator doesn't power up like it should.
Contact Us Today!
All American Air & Electric has provided electrical services for North Central and Treasure Coast Florida for over 30 years. Our experienced electricians can take care of any problem that arises. Contact our nearest location in Ocala at (352) 629-1211 or Fort Pierce at (772) 878-5143 to schedule a generator installation today.