Air Duct Services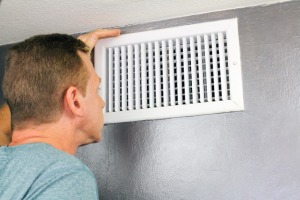 Air ducts are an important part of your home's air circulation. Your air ducts determine whether you and your family are breathing clean fresh air or dirty/unhealthy air. Therefore, it is important to have your air ducts inspected and properly cleaned to ensure continued flow of clean air. Since ductwork is often located out of sight behind walls or above ceilings, maintenance such as the cleaning of air ducts can be easy to overlook. Many people often forget to have routine air duct cleaning performed, which has the potential to cause long term problems with your home's indoor air quality.
Air Duct HVAC System Cleaning Benefits
Even though you can maintain your air ducts by using high-efficiency air filters and by replacing them regularly, professional air duct cleaning/maintenance is needed to repair cracks that cause air leaks, allow outside air containing pollutants and allow allergens to circulate throughout your home. The air duct/heating, ventilation and air conditioning HVAC system in your home can attract a variety of outdoor pollutants that trigger allergies. Dirty air ducts and vents from your heating and cooling system circulate pollutants such as pet dander, fungus, dust and bacteria or even mold, throughout your home. Check out the benefits of our air duct cleaning services:
Air Duct Inspection
Air Duct Cleaning
Allergen Reduction
Improved Indoor Air Quality
Increased Energy Efficiency
Extends the Life of Your HVAC System
Air Duct Sealing with Aeroseal

Aeroseal pinpoints and covers leaks in approximately 2-4 hour from the inside out with a success rate of up to 98%. Aeroseal is the most effective, affordable, and viable method of sealing air duct leaks on the market.
Leaky Ducts Contribute to:
Loss of cool and warm conditioned air to the outside or unconditioned spaces of your home.
Even the most energy-efficient heating and cooling systems not performing at its best.
Forcing your system to work harder and wear out sooner, costing you more money.
Excess humidity levels that can lead to mold and costly home repairs.
What are the Benefits?
Airtight savings: The money formerly leaking out of your ducts will stay in your pocket longer.
Airtight comfort: Your hard to heat or cool rooms will have even temperatures and be more comfortable.
Improved air quality: You will see a reduction in dust and humidity, along with fumes and other odors.
Reaches everywhere: Seals leaks nearly impossible to reach using other methods.
You will be a small part of a bigger solution: A reduction of the amount of air pollution created from generating less energy.
Ductless Mini Split Systems
have ducts or if you live in an apartment complex, a central air system may not be right for you. Installing one might not even be possible, and if it is, it might be too expensive or disruptive to do so. If this is your current situation, then you need a ductless mini split system for home cooling from All American Air & Electric, Inc.
Ductless mini split air conditioning is a viable and preferable option for many homeowners and apartment dwellers. In fact, ductless systems can offer several advantages over other systems, such as:
Greater control over a specific room's temperature
Lower energy usage
Lower installation costs
Less intrusive installation process
Easier repairs or replacements
Together, these distinct advantages make a ductless system more affordable and more flexible. Ductless systems can provide needed cooling in living situations where a ducted system would not be practical.
Give Us a Call
To schedule a free consultation or estimate in North Central or Treasure Coast, FL, contact the location nearest you. We will gladly answer any questions about your current situation and provide you with a free consultation and estimate. Call Marion County at (352) 629-1211 or St. Lucie County at (772) 878-5143 today.