Ductless/Mini Split Systems in North Central & Treasure Coast Florida
When you live in North Central & Treasure Coast Florida, you really need an efficient air-conditioning system. An air-conditioned home is your best sanctuary from the high temperatures. However, what are you supposed to do when you don't have a central air system?
Ducted air conditioning is one way to keep your home cool. However, if you don't already have ducts or if you live in an apartment complex, a central air system may not be right for you. Installing one might not even be possible, and if it is, it might be too expensive or disruptive to do so. If this is your current situation, then you need a ductless mini split system for home cooling from All American Air & Electric, Inc.
Compare the Benefits of Ductless Air Conditioning
We staff over 60 dedicated employees who offer quality service 24 hours a day, 7 days a week. We back each of our technicians work and we strive for 100% customer satisfaction.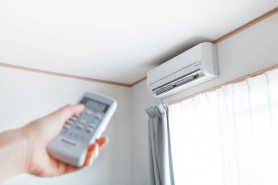 Ductless mini split air conditioning is a viable and preferable option for many homeowners and apartment dwellers. In fact, ductless systems can offer several advantages over other systems, such as:
Greater control over a specific room's temperature
Lower energy usage
Lower installation costs
Less intrusive installation process
Easier repairs or replacements
Together, these distinct advantages make a ductless system more affordable and more flexible. Ductless systems can provided needed cooling in living situations where a ducted system would not be practical.
Let Us Help You Choose and Maintain Your System
We have been serving North Central & Treasure Coast Florida and the surrounding areas since 1996, and we're focused on providing only quality products and service. At All American Air & Electric, we can offer recommendations on different kinds of mini split/ductless air conditioning systems for your living situation. Once you have a system, you should consider our maintenance plans. We offer annual and seasonal inspection packages that allow you to tune up your system and avoid expensive repairs.
If you do need a repair for a mini split/ductless system, come to us for fast and effective services. We respond quickly so you don't have to suffer through a sweltering afternoon without your system. Once we are at your home, we provide repairs that guarantee the long-term performance of your unit.
When you need a ductless air system, contact one of our local offices today in Marion County at (352) 629-1211 or St. Lucie County at (772) 878-5143.