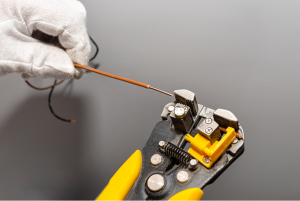 When it comes to electrical work in your home, it's crucial to hire a professional residential electrician who can ensure the safety and functionality of your electrical system.
Attempting to handle electrical repairs or installations on your own can be dangerous, and it may lead to costly mistakes or even accidents. By hiring a qualified electrician, you can have peace of mind knowing that the job will be done correctly and efficiently.
Do you need to hire an electrician, but aren't sure how to find the right one? If so, you've come to the right place. Below, we are going to review some of the key factors to look for in a residential electrician in Fort Pierce, Florida.
Factors to Consider When Choosing a Residential Electrician
When it comes to finding the right residential electrician in your area, there are several factors to consider. Taking the time to evaluate these factors will help you make an informed decision, and it will ultimately ensure that you hire a qualified electrician in Fort Pierce, Florida who meets your specific needs.
Licensing and Insurance
One of the most important factors to consider when hiring a residential electrician in Fort Pierce, Florida is their licensing and insurance. A reputable electrician should be fully licensed and insured to protect both you and them in case of any accidents or damages that may occur during the job. You'll want to request proof of their license and insurance before hiring them to ensure they follow local regulations.
Experience and Expertise in Residential Electrical Work
Experience is key when it comes to electrical work. It's best to look for a residential electrician who has a solid track record in handling residential projects that are similar to yours. An experienced electrician will have encountered a wide range of issues and will have the knowledge and skills to handle any situation that arises. Additionally, you should consider their expertise in specific areas such as electrical repairs, installations, or any other electrical work that you require.
Reputation and Customer Reviews
A reputable residential electrician will have a positive reputation within the community. Look for electricians who have received favorable reviews and testimonials from previous clients. Online platforms and review websites can provide valuable insights into the quality of their workmanship and customer service.
Availability and Response Time
Electrical problems can occur at any time and may require immediate attention. When choosing a residential electrician, you'll want to consider their availability and response time. Ideally, you should look for an electrician who can respond quickly to emergency situations and has flexible scheduling to accommodate your needs. Prompt and reliable service is crucial to minimize downtime and ensure the safety of your home.
Pricing and Cost Estimates
While price should not be the sole determining factor, it is important to consider the pricing and cost estimates provided by the residential electrician.
You may want to obtain quotes from multiple electricians and compare them to ensure that you are getting a fair price for the services offered. However, be cautious of extremely low prices, as they may indicate subpar quality or hidden charges. A reputable electrician will provide a transparent and detailed breakdown of the costs involved.
Looking for a Residential Electrician in Fort Pierce, Florida?
Are you ready to partner with a residential electrician in Fort Pierce, Florida who you can trust to get the job done right? If so, look no further than the professionals at All American Air & Electric. With years of experience and a team of highly skilled electricians, we are committed to providing top-notch electrical services to homeowners throughout the Fort Pierce area and beyond.
Contact us today to learn how we can serve you.