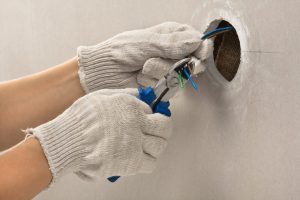 As a homeowner, you'll want to do everything in your power to make sure your home is safe and functional. One aspect of home maintenance that is crucial to your safety and well-being is your electrical system.
Faulty wiring or improper electrical installations can lead to serious issues, which is why it's important to hire an electrician to handle any electrical work you need to have done. However, you shouldn't hire just any electrician — there are some key things you should look for before deciding whether to hire a particular residential electrician in Ocala, Florida. Are you wondering what these include? We are going to discuss below.
First: Why Is It Important to Hire a Professional Residential Electrician?
Hiring a professional residential electrician is crucial for several reasons. First and foremost, a licensed electrician has the knowledge, skills, and tools necessary to diagnose and fix any electrical issue you may have.
Attempting to fix electrical issues yourself can be extremely dangerous, and it may even be illegal in some cases. Additionally, a professional electrician will be able to ensure that all electrical work is up to code and meets safety standards.
Another reason to hire a professional electrician is for the peace of mind that comes with knowing your electrical system is in good hands.
Professional electricians are trained to handle a variety of electrical issues, ranging from simple repairs to complex installations. When you hire a reputable residential electrician in Ocala, Florida, you can trust that your electrical work will be done correctly and efficiently.
Things to Look for in a Residential Electrician
Before you call a residential electrician, there are a few key considerations you should keep in mind. These include:
Licensing and Insurance Requirements for Residential Electricians
One of the most important things to look for when hiring a residential electrician in Ocala, Florida is their business license and insurance. In the State of Florida, electricians are required to be licensed by the Florida Department of Business and Professional Regulation.
This license ensures that the electrician has completed the necessary training and has the knowledge and skills necessary to perform electrical work safely and effectively.
Additionally, it is important to ensure that the electrician you hire is insured. This protects both you and the electrician in case something goes wrong during the job. If your electrician is not insured, you could be held responsible for any damage or injuries that occur.
Questions to Ask Before Hiring a Residential Electrician
Before you hire a residential electrician in Ocala, Florida it is important to ask a few key questions to ensure that they are the right fit for your needs. Some questions to ask include:
How long have you been in business?
Are you licensed and insured?
Can you provide references?
What is your experience with the specific electrical issue I am experiencing?
What is your pricing structure?
Asking these questions can help ensure that you hire a qualified electrician who can handle your specific electrical needs.
Looking for a Residential Electrician in Ocala, Florida?
Are you looking for a licensed and insured electrician who you can turn to for all your home's electrical needs? If so, and if you're looking for the most trusted residential electrician in Ocala, Florida, you've come to the right place — our experts at All American Air & Electric are here to assist you.
Our team of licensed and insured electricians has the knowledge and experience necessary to handle any electrical issue you may have. Contact us today to get started.