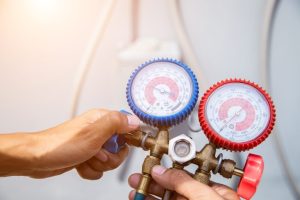 When your air conditioning system suddenly ceases to work, it can be a stressful experience. Fortunately, you can always reach out to an expert who can help get your home's AC system back up and running quickly.
Are you interested in learning about some of the common causes of a broken-down AC system? If so, you've come to the right place. This AC replacement company in Fort Pierce, Florida is going to explain below.
Your Thermostat May Be Broken
If your AC unit is not responding to your thermostat, it could be that the thermostat itself is broken or malfunctioning.
This can happen due to various factors, such as physical damage, incorrect configuration settings, or wear and tear over time. If the issue is within the thermostat itself, then you will most likely need to replace it with a new one to get your air conditioner going again.
Most reputable AC replacement companies in Fort Pierce, Florida offer a wide selection of top-of-the-line thermostats from trusted brands. At All American Air & Electric, we offer high-quality thermostats from Honeywell, Ruud, Nest, and more. Regardless of your preferences, we can help you find the perfect option for your home's cooling needs.
Your Circuit Breaker Could Be Tripping
If your AC unit suddenly turns off, it could also be that the circuit breaker is tripping due to an overload of power. This can happen if you have too many appliances running at once, or if there is a shortage in the wires leading to your air conditioner.
To fix this issue, you will need to locate the source of the problem and replace any damaged wiring or malfunctioning components. Hiring a professional AC replacement company in Fort Pierce, Florida is the best option for this task, as they will have the knowledge and expertise necessary to quickly assess the cause of the overload.
The AC Filter May Need to Be Changed
A clogged air filter is one of the most common reasons why an AC unit might stop working. This happens when the filter becomes overfilled with dust, dirt, and debris, which can block airflow and cause the system to malfunction.
Fortunately, this issue is easy to resolve — all you'll need to do is replace your old filter with a new one. The AC filter is normally stored in an accessible location near the AC unit or in the attic, so you should be able to change it out without too much trouble.
The Unit's Coolant Level Could Be Low
Your air conditioner requires a certain level of coolant to function properly. If this liquid is low, then the system will be unable to generate cold air, and it will eventually stop working altogether.
Fortunately, refilling the coolant should not be too difficult — all you need to do is purchase the correct kind of refrigerant from your local hardware store and use a specialized injection tool to add it to the system.
You can always hire your local AC replacement company in Fort Pierce, Florida to take care of this task for you. They will ensure that everything is done correctly and safely.
Looking for an AC Replacement Company in Fort Pierce, Florida?
Are you unsure of what the problem is with your air conditioner? Looking to have it inspected by the best AC replacement company in Fort Pierce, Florida? If so, look no further than the team at All American Air & Electric. Our experienced AC technicians can quickly diagnose the issue and handle any repairs or replacements that are necessary. Contact us today to get started.