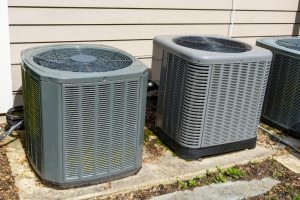 Air conditioners don't last forever. In fact, most central air conditioners need to be replaced after around 15 years of use.
Are you currently wondering whether your air conditioner needs to be replaced? To help you decide, this AC replacement company in Port St. Lucie, Florida is going to discuss some of the most common indicators below.
When Your Energy Bills Keep Growing Higher
HVAC usage comprises a large chunk of a home's energy expenditure. Therefore, when the HVAC system's performance starts to plummet, the home's energy costs tend to go up. This is because the system must work harder to produce the same result, and thus requires more electricity.
If your energy bills keep getting higher and higher, you should take a close look at your AC. Odds are, there's something impairing its performance.
This "something" could be fixed with a simple repair. On the other hand, it might require a full AC replacement. To make this determination, you can always schedule an inspection with a reputable AC replacement company in Port St. Lucie, Florida.
When Your Air Conditioner Is Over 20 Years Old
As was noted above, air conditioners tend to last around 15 years. That said, some extend far past this range. The issue is that, once they've reached a certain point, their efficiency is typically lagging far behind the efficiency offered by newer AC units. This means that the newer ACs can produce an equal result at a much lower energy cost.
If your AC is 20 years of age or older, it's wise to start thinking about a replacement — even if it's still working at the time. Modern air conditioning units are governed by strict regulations, and therefore, they must meet certain efficiency requirements. They'll cut down your energy usage greatly, which will save you money in the long run.
When Your Air Conditioner Keeps Breaking Down
Does your air conditioner break down every few months? Has it been doing this for a few years? If so, you should strongly consider having it replaced.
After all, if it's displaying a pattern of breakdowns, it's bound to break down again soon. At some point, the cost of repairs is going to surpass the cost of simply replacing the unit altogether.
Now, this is obviously a judgment call on your part. However, if your unit is close to the 15-year age mark, or if it's breaking down at least once a year, it's probably best to reach out to a professional AC replacement company in Port St. Lucie, Florida.
When Your AC Is Getting Louder and Louder
One last sign that it's time for an AC replacement is that your AC is getting louder and louder. There could be a grinding sound coming from the condenser. There could be squeaking sounds coming from the blower. Regardless, if the sounds of your AC are picking up progressively, there's likely something that needs to be done.
You might be able to eliminate the noises with a simple repair. A knowledgeable AC replacement company in Port St. Lucie, Florida will be able to inspect your unit and suggest the best course of action.
Looking for an AC Replacement Company in Port St. Lucie, Florida?
Has your air conditioning system reached the end of its lifespan? Looking to have a new system installed by the most trusted AC replacement company in Port St. Lucie, Florida? If so, you've come to the right place — our team at All American Air & Electric is here to help.
We have replaced countless ACs throughout Port St. Lucie and its surrounding areas. Regardless of the type of air conditioner you're looking to install, we have you covered. Contact us today to get started.