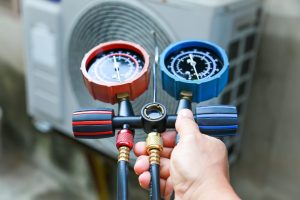 At some point in time, your air conditioner is bound to encounter issues. When it does, it's important that those issues are promptly fixed.
The question is: how can you tell when your air conditioner needs a professional repair? That's where we can help. This AC repair contractor in Ocala, Florida is going to review some of the most common signs below.
Is Your AC Making Unusual Sounds?
A sure sign that you need AC repair is that your AC is making unusual sounds. These are any sounds that you don't typically hear while your AC is running. They vary from grinding sounds to squealing sounds and much more.
Grinding sounds will generally indicate that there's something trapped in your AC condenser. Squealing sounds usually indicate a loose or broken belt. Buzzing sounds, on the other hand, can indicate several problems, from a dirty air filter to loosened components to electrical problems and more.
If you notice any of these noises, it's best to contact your local AC repair contractor in Ocala, Florida for an inspection. They'll find the source of the issue and then make all vital repairs.
Is Your AC Leaking Refrigerant?
A sure sign that you need to have your AC repaired is that there's refrigerant leaking from your AC system. This should never be happening. ACs require refrigerants to produce cold air. If the refrigerant is leaving the system, it's because there is a leak.
In most cases, this occurs in the system's refrigerant line. This is an insulated cable that leads from the condenser to the inside of the home. If it's impacted by, for example, falling branches, it can become pierced, resulting in a leak.
The solution? Your AC repair contractor in Ocala, Florida can patch up the line and add fresh refrigerant to the system.
Is Your AC Slow to Start?
You may also find that your AC is slow to start. In other words, it may not be immediately responsive when you make changes to your thermostat. In most cases, your AC should respond within around 30 seconds of a change being made.
If it's taking longer than this, several problems could be present. For instance, your thermostat may have a connectivity issue. On the other hand, the sensors in your AC could be worn or dirty.
Regardless, this problem is bound to grow worse over time. In fact, it may eventually result in your AC not turning on at all. Therefore, it's best to get in touch with your AC repair contractor in Ocala, Florida as soon as you notice this issue.
Does Your AC Short Cycle?
The last sign to look out for is short cycling. This is when an air conditioner turns on for a few seconds, turns off for a few seconds, and then repeats that process in perpetuity.
It can be caused by several factors, including a mis-sized AC unit, a worn sensor, and otherwise. In any case, it leads to energy efficiency issues, and puts undue stress on the AC unit. A reputable AC technician can diagnose the issue and make the proper repairs.
Looking for the Best AC Repair Contractor in Ocala, Florida?
Are you currently noticing any issues with your air conditioning system? Looking for the best AC repair contractor in Ocala, Florida? If so, look no further than All American Air & Electric.
We have repaired all types of air conditioning systems throughout the Ocala area — from central AC to ductless mini splits to heat pumps and more. Regardless of your AC repair needs, we have you covered. Contact us today to get started.