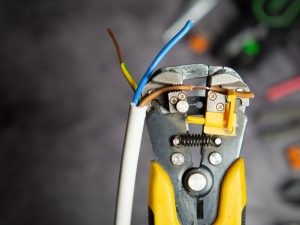 Looking to add to the electrical system in your home? Need to have an issue with your electrical system repaired? In either case, a licensed electrician is the person to call.
Now, you might be wondering: what should you look for when hiring an electrician? What attributes does a good electrician possess? To help you find the right electrical contractor in Port St. Lucie, Florida, we are going to discuss some of the key things to look for.
Ample Experience
One of the first things to look out for is ample experience. The more experienced your electrician is, the better chance there is of them doing a good job for you. This is because experience helps an electrician avoid common mistakes. It also helps them to fine-tune their business practices to allow for the best customer service possible.
We advise choosing an electrical contractor in Port St. Lucie, Florida with at least two years of real-world work experience under their belt. If an electrician has kept a solid reputation over at least two years, they're likely doing something right.
Licensed
In the State of Florida, electricians are required to be licensed by the state. If they're not licensed, they're working illegally and should be avoided entirely by homeowners.
There are two primary types of licenses available: certified and registered. Whereas registered electricians can work state-wide, certified electricians are only allowed to operate in their designated municipalities.
To determine whether a given electrician is licensed, you can utilize the Florida license lookup tool. Type in the electrician's name or company, and it will show you which licenses they possess.
A Clean Reputation
You're also going to want to assess the electrician's reputation. In most cases, if an electrical contractor in Port St. Lucie, Florida has a positive reputation, you can reasonably assume they provide quality work.
How do you determine a specific electrician's reputation? You can use online review websites like Google or Facebook. These usually contain an array of reviews from past customers. These reviews can carry all sorts of useful information, helping you answer questions about each electrician's skills, capabilities, and shortcomings.
Read through these reviews so that you can form an overall opinion about each electrician. Keep an eye on star ratings as well. In most cases, you would be wise to choose an electrician with a 4-star rating or higher. Hiring an electrician with less than a 4-star overall rating could be a bit of a risk.
Affordable Rates
Affordable rates are important as well. After all, everyone has a budget. You don't want to have to pay exorbitant rates for something that you could have gotten done much less.
How can you determine what a specific electrician charges? It's as simple as calling them and asking for an estimate. Tell them about the work you need to have done, and then ask them to give you a quote over the phone. Any reputable electrical contractor in Port St. Lucie, Florida will provide you with a quote without any issues.
It's important to keep in mind that the lowest rate isn't necessarily the one you should go with. The most expensive doesn't necessarily guarantee the best services either. Cost is only one factor to weigh when making your choice. It's best to combine it with the other factors discussed to make your final pick.
Looking for an Electrical Contractor in Port St. Lucie, Florida?
Are you dealing with an electrical problem? Looking for a licensed electrical contractor in Port St. Lucie, Florida? If so, our team at All American Air & Electric has you covered.
Our electricians have worked with countless homeowners throughout the Port St Lucie area. We have the knowledge to fine-tune all types of electrical systems for optimal safety and functionality. Contact us today to learn about the services we offer.