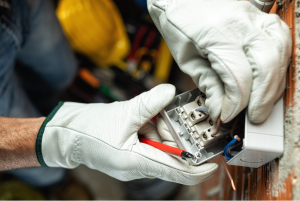 Are your outlets showing signs of damage? Perhaps your circuit breaker keeps tripping? In either case, there's only one person to call: a licensed electrician.
While licensed electricians commonly handle outlet and circuit breaker repairs, that's certainly not all they can address. Are you interested in learning about some of the common services that are offered by electricians? This electrical contractor in Fort Pierce, Florida is going to review them below.
Outlet Repairs and Installations
Whether your outlets are cracked, warm to the touch, incapable of holding onto plugs, or otherwise, a licensed electrical contractor in Fort Pierce, Florida can handle the issue. Not only are the professionals experienced in repairing outlets, but in replacing them as well.
Some signs that you might need to have your outlets looked at include sparking outlets, cracked outlets, and hot outlets. If any of these signs are present, your outlets have the potential to create a dangerous situation.
Light Fixture Repairs and Installations
Installing light fixtures can be a complex task. Whether they're recessed lights, ceiling fans, or otherwise, their installation requires extensive skill and knowledge — not to mention the right tools. That is why, when you're ready to install light fixtures in your home, it's strongly recommended that you work with a licensed electrical contractor in Fort Pierce, Florida.
Electricians install light fixtures on a regular basis, and they know how to do so in a way that is both functional and safe. Regardless of the light fixture you're looking to install, your local electrical company can accommodate you.
Generator Repairs and Installations
As any Florida resident knows, severe weather events can sometimes knock out the power in your home. If you want to keep your refrigerator cool and your lights on during these moments, you'll need to have a generator at your property.
You could make do with a portable generator. On the other hand, you could have a permanent generator installed in your yard. This way, whenever the power goes out, the generator automatically kicks in and provides your home with the power that it requires.
Installing a permanent generator isn't easy. It requires extensive electrical knowledge. This is where a licensed electrical contractor in Fort Pierce, Florida can help. They'll not only install a generator for you, but they can help you pick out the right model as well.
Wiring Services
Maybe you're adding on to your home? Perhaps the wiring in your existing home is starting to deteriorate? In any case, if you need electrical wiring services, an electrician is the person to call.
Electricians install, repair, and replace electrical wiring on a regular basis, ensuring not only that this wiring is functionally fine-tuned but safe for use as well. Regardless of the level of wiring work that you need done, your local electrician is the person to call.
Sign Lighting Installations
Do you have a sign that you'd like to illuminate? Perhaps it's for a restaurant or other storefront? Maybe it's just for a window in your home? Regardless, your local electrician can help light it for you.
Circuit Breaker Repairs and Installations
In certain cases, circuit breakers will impair the functionality of an otherwise functional electrical system. This is where an electrical service can accommodate you. Whether you need to install a new circuit breaker, repair a malfunctioning circuit breaker, or otherwise, a Fort Pierce electrical contractor can get the job done right.
Looking for a Licensed Electrician Contractor in Fort Pierce, Florida?
As you can tell, there are all sorts of electrical services that are available today. Do you need help with any of the tasks reviewed above? If so, and if you're looking for a licensed electrical contractor in Fort Pierce, Florida, All American Air & Electric is the team to call.
Contact us today to schedule an appointment.