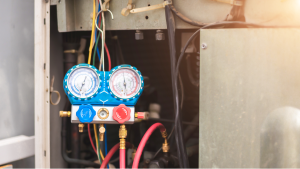 Summer is still in full swing in the Fort Pierce area, and everybody is using their air conditioners. It's not uncommon for homeowners to experience AC breakdowns this time of year.
You might be wondering: what are some of the signs to look for that indicate an issue with your air conditioner? This AC repair contractor in Fort Pierce, Florida is going to review them below.
1. There's Refrigerant Leaking from Your AC Unit
A sure sign that your air conditioner needs repair is that it's leaking refrigerant. Refrigerant is a liquid that goes through the AC system as a means of producing cold air. If it leaks out of the AC system, the AC can't produce cold air.
Where are you most likely to spot refrigerant leaks? In the refrigerant line. This is an insulated cable leading from the condenser to the home. If something falls on it (like a branch, for instance), it could very well form a hole, resulting in a leak.
Note, though, that you might notice refrigerant leaking out of the condenser itself. In either case, it's best to contact your local AC repair contractor in Fort Pierce, Florida to inspect the issue.
2. Your Rooms Possess Varying Temperatures
Another indication that you need AC repair is that your rooms have varying temperatures. For instance, your bedroom might be 68 degrees while your guest room might be 72 degrees.
This generally occurs due to blockage in the duct system. Dust and other types of debris are literally blocking air from getting to certain rooms. Therefore, a temperature inconsistency arises.
The fix is, fortunately, straightforward. You just need to clean out your ducts. You can attempt this on your own. However, if you run into trouble, you should turn to your local AC repair tech.
3. Your Air Conditioner Short Cycles
In some cases, an air conditioner will start short cycling. In other words, it will turn on for a moment, turn off for a moment, and then repeat this process.
Cycles should last around 15 minutes each. If they're only lasting for a few seconds, there's undoubtedly something amiss. In many cases, the unit has dirty evaporator coils. Note, though, that a mis-sized AC unit could be the culprit as well.
Regardless, your local AC repair contractor in Fort Pierce, Florida can help you fix the issue. They will send a technician out to assess your air conditioner and determine what the issue is, then make any necessary repairs.
4. There Are Foul Odors Coming from Your AC Unit
Does your home have a musty and stuffy smell? Does it seem to be coming from your vents? If so, your air conditioning system is likely the problem.
This tends to occur when there's residue inside of your ducts or AC unit. For instance, there might be mold spores growing in your ducts. When air is pushed through your ducts, it pushes the smell of these spores out into your home, resulting in that unpleasant and musty aroma.
The fix is straightforward: clean your ducts and/or AC system. Get rid of the residue that's emitting this smell and you will eliminate the odor.
Looking for the Top-Rated AC Repair Contractor in Fort Pierce, Florida?
Have you noticed any of the signs reviewed above? If so, and if you're looking for the top-rated AC repair contractor in Fort Pierce, Florida, look no further than the team at All American Air & Electric.
Regardless of the type of repair your air conditioner needs, we are the people to call. Contact us today to schedule an inspection.