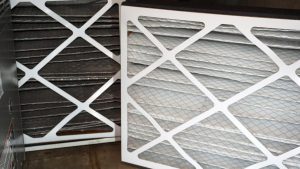 Here in The Villages, Florida, our air conditioners are used on an almost constant basis. Because of this, they eventually take on a lot of wear and tear. That is why it's vital for homeowners to have their AC systems maintained regularly. Not only will routine maintenance prolong the lifespans of an air conditioner, but it will improve its energy efficiency as well.
You might be wondering: what exactly does AC maintenance entail? To help give you a better understanding, this AC maintenance contractor in The Villages, Florida is going to provide our top four maintenance tips below.
1. Replace the Air Filter
The most important component of AC maintenance is replacing the air filter. AC maintenance contractors in The Villages, Florida recommend doing this every two to three months — unless you have pets in your home. In these cases, a replacement should be made monthly.
When a filter doesn't get replaced in a timely manner, it becomes covered in dust and debris. When this happens, it puts tremendous strain on the adjoining AC. Therefore, the AC will be forced to work harder than it would otherwise, resulting in premature deterioration and a loss of energy efficiency.
Only by replacing the filter can you keep your AC running at maximum capacity. Fortunately, replacing an AC filter is exceedingly easy to do.
2. Clean the Evaporator Coils
Another key component in AC maintenance is cleaning the evaporator coils. If you don't clean these coils, they won't be able to receive air and therefore won't be able to pass it to other components within your AC. This will result in a lack of cold air from your AC.
You should clean these coils every 6 months or so. Use a brush to scrub with specialized coil cleaning solution. This will eat away at the grime on the coils, rendering them entirely clean.
If you need assistance with this task, you can always get in touch with a professional AC maintenance contractor in The Villages, Florida. They can perform all the necessary maintenance tasks to ensure that your AC is in optimal condition.
3. Straighten the Fins
Our next tip is to straighten the fins on your AC condenser. The fins comprise the outside of the condenser. They're thin metal strips that simultaneously protect the internal components of your condenser while also allowing air to pass through into it.
Over time, these fins tend to become bent. Because of this, they don't allow air to pass through efficiently. To get them back in proper order, you can run a knife between them and separate them from one another. If you do this twice a year everything should be good to go.
4. Clear Out the Ducts
As your air conditioner takes in new air, it's bound to take in several airborne contaminants as well. These include dust mites, mold spores, and much more.
When these contaminants enter an AC system, they generally come to rest in the adjoining ducts. Once there, they accumulate, blocking the flow of air.
Until you clear out your ducts, your AC is going to experience efficiency issues. Therefore, every two years or so, it's recommended that you have your air ducts cleaned. Your local AC maintenance contractor in The Villages, Florida can get the job done for you.
Looking for a Professional AC Maintenance Contractor in The Villages, Florida?
Do you need assistance with any of the maintenance tasks reviewed above? If so, do not hesitate to get in touch with the team at All American Air & Electric. We have built a reputation as the top-rated AC maintenance contractors in The Villages, Florida over the years thanks to our professionalism and outstanding customer service.
Contact us today to schedule an appointment.