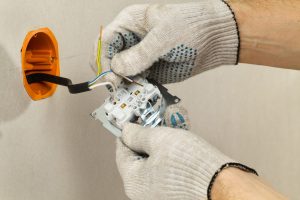 The modern world runs on electricity, and your home and/or commercial property are certainly no exception. Not only do you rely on electricity to light your property, but it's also needed to keep your air conditioner, refrigerator, and many other appliances running.
As you may know, electrical systems are complex. Fortunately, licensed electricians are available to take care of all your electrical needs in a safe and efficient manner.
Are you interested in learning about the different types of electrical services that are available?  This licensed electrician in Vero Beach, Florida is going to explain below.
Electrical Installations
At some point in time, you're going to have to install an electrical entity of some kind. You can attempt to do this on your own. However, electrical installations can be much more complex than you may realize.
This is where an electrician can help you. Licensed electricians in Vero Beach, Florida can install all types of electrical entities. These run the gamut from electrical outlets to light fixtures to hot tubs to generators and more. Not only can they install these entities in a proper and functional manner but in a safe manner as well.
You can attempt to install electrical entities on your own. However, if you want to be 100% certain that they're installed correctly, make sure to utilize the services of a professional electrician.
Electrical Repairs
While electrical system problems aren't common, they do pop up from time to time. Fortunately, many of these problems can be repaired quickly and easily.
For instance, maybe your electrical wiring is loose and/or tattered. Your electrician can replace deteriorated wiring with new wiring, ensuring that the electrical system is working as intended.
Perhaps your outlet is cracked or hot to the touch. Your electrician can remove the affected outlet and replace it with a new model.
It doesn't matter what the issue is — a licensed electrician in Vero Beach, Florida can find its source and make all necessary repairs.
Electrical System Inspections
Over time, the components of an electrical system can suffer wear and tear. Whether it's due to flood waters or fires or just time, this wear and tear can impair the functionality of your electrical system, and even make it unsafe for use.
This is why, from time to time, you need to have your electrical system inspected by a professional electrician. A professional electrical system inspection will help ensure that all your system's parts are still in working order. It will ensure that your home is safe and that there's no heightened risk for house fires.
What events call for an emergency electrical inspection? Everything from storm damage events to house fires to DIY electrical work and more.
Sign Wiring
Maybe you'd like to put a sign up in front of a store front? If so, you should speak with your local electrician. Many licensed electricians in Vero Beach, Florida have experience with wiring signs. Regardless of your sign's size and shape, if you find the right electrician for the job, they will be able to get it done.
Looking for a Licensed Electrician in Vero Beach, Florida?
Does the electrical system at your home or business need an inspection? Hoping to install new electrical wiring? If you're looking for a licensed electrician in Vero Beach, Florida, you've come to the right place — All American Air & Electric is ready to help.
Our electricians provide all the services reviewed above and more. Regardless of your electrical needs, we are the people to call. Contact us today to schedule an inspection.