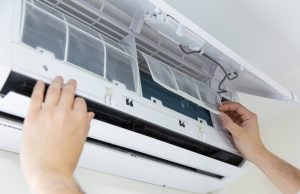 Most Florida homeowners run their air conditioner on a consistent basis. As a result, these systems have substantial amounts of wear and tear, which can eventually result in a breakdown. When this happens, it's time to call your local AC repair technician.
You might be wondering: how can you tell when it's time to call the professionals? What are the most common indications that your system needs to be repaired? This AC repair contractor in Fort Pierce, Florida is going to review them below.
There's Refrigerant Leaking Out of Your AC
A sure indication that your AC needs repair is that there's refrigerant leaking out of it. If this is the case, the leak will likely be in the refrigerant line, specifically. This is the insulated cable that connects your AC condenser to your home.
All sorts of things can fall onto a refrigerant line, piercing it and causing a leak. Whether it's branches, rocks, or otherwise, the line will need to be patched.
Your local AC repair contractor in Fort Pierce, Florida can help you with the patch, and can also add fresh refrigerant to your AC system.
Your AC Short Cycles
Another common indication that an AC needs repair is that it short cycles. All air conditioners go through cycles of processing and blowing air. In most cases, these cycles should last between 15 and 20 minutes.
If they're happening 5 minutes or less a cycle, there's likely something wrong with your air conditioner. It could be that the AC unit is mis-sized for your home; it could be that its coils are dirty; it could even be a problem with the thermostat.
Regardless, this is something that you should have checked out by a professional. Not only does it lead to unnecessary wear and tear on the unit, but it also results in energy efficiency issues.
There Are Bad Odors Coming Out of Your Vents
Do you ever smell foul odors coming from your vents? If so, there's undoubtedly some component in your HVAC system that needs cleaning and maintenance.
Often time, this is due to dirty ducts. Residue builds up in the ducts over time and eventually needs to be cleaned, usually every year or two.
Note, though, that a dirty AC blower could also cause this issue. In this case, the AC itself would need to be cleaned. In either case, a reputable AC repair contractor in Fort Pierce, Florida can perform the cleaning to eliminate the issue.
Your Home Is Cool but Humid
Air conditioners aren't just designed to reduce cold, but humidity as well. That is why, if your home is cool but still humid, your air conditioner probably isn't working properly.
Now, what can cause this problem? In most cases, it's either dirty coils or a refrigerant leak. Also, be sure that your air conditioner is on and not just your fan.
If your air conditioner is turned on and the problem remains, it's time to contact a professional AC repair contractor in Fort Pierce, Florida. They will be able to inspect your system, find the source of the issue, and take action to repair it.
Looking for the Top-Rated AC Repair Contractor in Fort Pierce, Florida?
Is your AC showing any of these indications? Looking for the top-rated AC repair contractor in Fort Pierce, Florida? If so, All American Air & Electric has you covered.
Our experienced AC technicians have what it takes to repair all types of air conditioning systems. Regardless of the issue you're facing, we are the people to call. Contact us today to schedule an appointment.