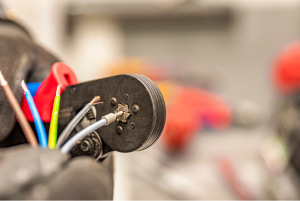 The modern world runs on electricity. We rely on it not only to power our phones and computers, but to cool our homes and to wash our clothes as well.
Electricians provide the services required to keep the electrical systems at our homes running smoothly.
Are you wondering how an electrician can help you? Interested in learning about the specific services they offer? This residential electrician in The Villages, Florida is going to review some of the most popular services below.
Installing Electrical Components
Electrical components aren't always easy to install. In fact, in many cases, they're quite difficult to install. That is why, when it comes time to install an electrical component, it's recommended that you work with a licensed residential electrician in The Villages, Florida.
Electricians can install everything from light fixtures to hot tubs to new outlets and more. If it's an electrical component, an electrician can install it.
Not only will your electrician ensure that it's installed for optimal functionality but for optimal safety as well. It won't be a fire risk, it won't trip circuit breakers, and it will run properly.
Repairing Electrical Components
Not only do electricians install new electrical components, but they also repair existing electrical components as well. This includes everything from electrical circuitry to electrical outlets to light fixtures to surge protection devices and more.
The repair of electrical components often proves to be a complex task. In addition to requiring a good amount of technical expertise, it also has the potential for danger. That's why it's generally wise for DIYers to avoid it and hand it over to the professionals.
If you need help with electrical repair, your residential electrician in The Villages, Florida is the person to call. They can have your electrical system working like new again in no time.
Inspecting Electrical Systems
Electrical systems might not get a lot of close attention. You might even take yours for granted, expecting that nothing about it ever changes. However, changes can occur, especially after big and unexpected events.
It's after events like these that you're advised to have your electrical system inspected by a professional electrician. They can determine whether the system is still working properly and whether the system is still safe for those around it.
Some of the most common events that call for an electrical inspection include storm damage, house renovations, and moving into a new home. Your residential electrician in The Villages, Florida will also recommend having your system inspected every three years or so, regardless of whether any major events have occurred.
Implementing Surge Protection
From time to time, electrical systems will experience power surges. These can be caused by everything from lightning strikes to electrical company service alterations to the plugging in of large appliances and more.
Unfortunately, they can be highly damaging to other appliances that are already plugged in. Not to mention, they can start fires.
That is why it's recommended to have surge protection entities installed within your electrical system. They will protect your appliances and ensure that your home remains a safe and habitable place.
Are you interested in installing surge protection? Your local electrician can help you with the task, incorporating whole-home surge protectors to fight surges in every portion of your home.
Looking for the Best Residential Electrician in The Villages, Florida?
Do you currently need any of the electrical services reviewed above? If so, and if you're looking for the best residential electrician in The Villages, Florida, All American Air & Electric is the company to call.
Our licensed electricians have helped thousands of homeowners throughout The Villages and its surrounding areas. Regardless of your electrical needs, we can accommodate you. Contact us today to get started.