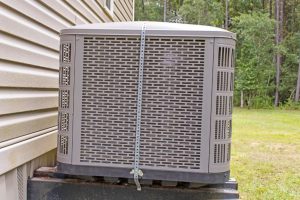 If you own a home, you will eventually run into a situation where your air conditioner is no longer running like it should. This is inevitable, but the important thing is that you're able to overcome the issue quickly.
To do this, it's important to first understand what types of problems to look out for. That's where we can help. Below, this air conditioning contractor in Marion County, Florida is going to explain some of the most common air conditioning problems and their solutions.
Leaking Refrigerant Line
The refrigerant line extends from the AC condenser to the inside of the home. It's wrapped in insulation and is responsible for connecting the condenser to the blower.
Unfortunately, on some occasions, something will fall onto the refrigerant line, piercing it and causing it to leak. When this occurs, the AC can't produce cold air and is essentially useless.
How do you fix this problem? First, you need to patch up the refrigerant line. Then, you need to add fresh refrigerant to your AC system. You might be able to accomplish this on your own. If not, your local air conditioning contractor in Marion County, Florida can help you with the task.
Short Cycling
Another air conditioner problem is short cycling. This is when an air conditioner can't complete a full cooling cycle. Instead, it turns on for a few seconds, produces cold air, then shuts off, doing this repeatedly.
While a short cycling AC might be able to adequately cool a home, it's going to incur substantial wear and tear in the process. Not to mention, it's going to use much more energy than is truly required. If your AC is short cycling, you're going to want to fix it.
Fixing short cycling is dependent on what's causing it. If it's due to your AC unit being mis-sized, you're going to have to replace the whole unit. If it's because your evaporator coils are frozen, you're going to have to clean your system's components.
Fortunately, a reputable air conditioning contractor in Marion County, Florida can help you with these tasks.
Varying Temperatures Throughout the House
If you have central AC, the entirety of your home should possess the same temperature at the same time. Whatever it says on your thermostat, that's what the temperature should be in each room of your home.
If the temperatures in your home vary, there's likely something wrong with your air conditioner and/or HVAC system. In most cases, dirty ducts cause this problem, as they don't allow air to pass consistently from room to room. Note, though, that a faulty thermostat can cause this issue as well.
If you haven't cleaned your ducts in over four years, you're going to want to clean them. If that doesn't work, your AC needs attention. As always, you can contact your local air conditioning contractor in Marion County, Florida to determine the issue.
Dirty Air Filter
The most common AC issue is the issue of a dirty air filter. Air filters help to keep contaminants out of their respective ACs. Unfortunately, this makes them dirtier and dirtier over time.
If they're never replaced, they will get so dirty that they no longer serve their purpose. This will result in a sluggish and energy-wasting AC.
Therefore, it's vital that you replace your AC filter roughly every two months.
Looking for the Most Trusted Air Conditioning Contractor in Marion County, Florida?
Do you need help with your air conditioner? Looking for the most trusted air conditioning contractor in Marion County, Florida? If so, you've come to the right place — the team at All American Air & Electric is here to assist you.
Regardless of the problem your AC is experiencing, our skilled and experienced team can fix it. Contact us today to get started.