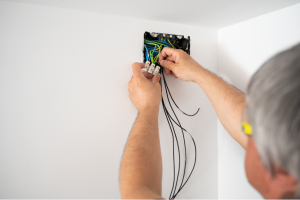 As a home or business owner, you're bound to run into electrical problems from time to time. When you run into these problems, the best solution is to turn to a professional electrician. They will be able to assess the issue, determine its source, and then take action to repair it.
Are you wondering whether you need an electrical repair? If so, you've come to the right place. This electrician in Port St. Lucie, Florida is going to discuss the top four signs that it's time to call the professionals.
Is There Something Wrong with Your Outlets?
A common indication that it's time to call an electrician in Port St. Lucie, Florida is that there's something wrong with your outlets. This can mean all sorts of things. Your outlets could be hot to the touch; your outlets could spark whenever you plug something into them; they might even have difficulty holding plugs in.
In any case, if something is amiss with your outlets, you need to call your electrician. This small problem could turn into a big problem at any time, resulting in a house fire, an electrical shock, or other.
Your electrician can assist you in making necessary repairs and could even replace your outlets if necessary.
Do You Need Help Installing an Electrical Entity?
There's nothing easy about installing an electrical entity. Whether it's a light fixture, a hot tub, or other, it's best installed by a seasoned electrician. While DIYers might be able to install certain electrical components, they should know that even a single slip-up could result in a dangerous or non-functional entity.
Electricians have all the skill, knowledge, and resources needed to install electrical entities the right way. Give yours a call and they'll have your electrical component installed correctly.
Do Your Circuit Breakers Trip Frequently?
Another reason to call your Port St. Lucie electrician is that your circuit breakers are tripping frequently. For instance, if your power goes out every time you plug in and turn on your toaster, you should call your electrician.
When circuit breakers trip, it's because their respective circuits can't handle the amount of power that's being passed through them. This generally happens for one of two reasons: 1. There are too many appliances plugged into one circuit, or 2. The circuit isn't set up properly.
Regardless, you should have the problem assessed by your local electrician. They'll be able to determine the source of the issue and then make any necessary changes.
Has Your Home Gone Through a Big Change Lately?
The last sign that you need the services of a licensed electrician in Port St. Lucie, Florida is that your home has gone through a big change lately. What constitutes a big change? It could be several things.
For instance, maybe your home was recently subject to flooding or fire? Perhaps you just remodeled your home? If any of these scenarios ring true, you should call your local electrician for an inspection.
Inspections are vital, as they ensure not only that your electrical system is still functional but that it's still safe as well. We advise having your electrical system inspected by an electrician every 5 years or so, regardless of whether it's gone through any big changes.
Looking for the Top-Rated Electrician in Port St. Lucie, Florida?
Have you run into electrical issues at your property? Looking to hire the top-rated electrician in Port St. Lucie, Florida? If so, we here at All American Air & Electric have you covered.
We are well-versed in repairing and replacing all types of electrical components. Regardless of your electrical needs, we're the people to call. Contact us today to schedule an appointment.