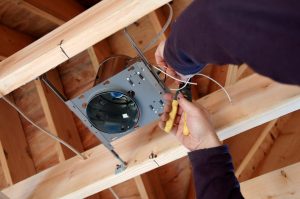 When there's electrical work that needs to be done around the house, there's no better option than to call a licensed electrician. Electricians have all the training and education needed to install, repair, and inspect electrical work without putting themselves or others at risk.
Are you wondering what a Port St. Lucie electrician can do for your home? If so, you've come to the right place. We are going to review some of the most popular services you can receive from a residential electrician in Port St. Lucie, Florida below.
Install Electrical Entities for You
Maybe you're looking to set up a new light fixture? Perhaps you want to hook up a hot tub or some other large electrical entity? If so, you would be wise to utilize the services of an electrician.
Installing electrical entities isn't always easy. In many cases, in fact, it's quite complex, requiring extensive knowledge on circuitry and other electrical components.
That is why, if you want the installation to go as safely as possible, you need to have an electrician facilitate the installation for you. Need electrical installation help in Port St Lucie? Give us a call.
Repair Electrical Work for You
Maybe your electrical outlet has suffered a crack? Perhaps your lights flicker on a regular basis? Whatever the case may be, if there's a problem with your electrical system, it would be best to call a residential electrician in Port St. Lucie, Florida.
Not only can electricians fix electrical problems for you, but they can also identify the sources of said problems. This enables them to get to the bottom of whatever's going on, allowing for the most precise and effective repair possible.
We don't advise trying to make electrical repairs on your own. Not only could you do further damage to your electrical system, but you could also injure yourself in the process.
Inspect Your Electrical System
Electrical systems are subjected to all sorts of issues over time. For instance, they might be exposed to fire or water damage. They could also be subject to lightning storms and other potentially detrimental events.
It's for this reason that, every once in a while, you should have your electrical system inspected by a professional. A residential electrician in Port St. Lucie, Florida will be able to determine whether all your electrical components are still in working order. They'll also be able to determine whether your electrical system is still safe and functional.
Wondering when to schedule an electrical inspection? After damage has occurred to your home, before new home purchases, and, if neither of those applies, every two to four years.
Install a Generator
When power outages occur, your home and appliances run into all sorts of problems. Not only is there trouble cooling food, but there is no hot water, and no light to mention a few.
Fortunately, there's a way to keep your electricity going, even in the event of a power outage. You can run a generator. A generator is a gas-powered machine that connects to a home's electrical system. It produces electricity for the home, ensuring that its many electrical-powered appliances can keep going.
Though you could use a portable generator as needed, there is another option: install a permanent generator. A residential electrician in Port St. Lucie, Florida can help you with the setup.
Looking for a Residential Electrician in Port St. Lucie, Florida?
Do you need to have a new electrical appliance installed at your home? Perhaps you need an electrical inspection or repair? In any case, if you're looking for a residential electrician in Port St. Lucie, Florida, All American Air & Electric is the company to call.
Contact us today to learn more about our electrical services.