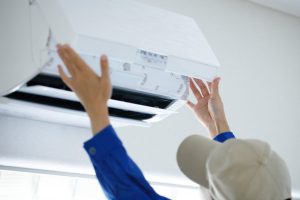 If you are a homeowner, you've probably heard that it's important to perform routine maintenance or "tune-ups" on your air conditioning system. What you might be wondering, though, is why they are so important?
There are several benefits that come with a professional AC tune-up. This AC maintenance company in Fort Pierce, Florida is going to review them below.
Fewer Repairs Needed
One of the biggest benefits of regular AC maintenance is that it will reduce the number of repairs that your air conditioner requires over time. AC maintenance ensures that the AC is running as smoothly as possible.
Instead of spending several hundreds of dollars on a new repair every year, you're spending only a small amount of money on AC maintenance once a year. Not to mention, it helps
A More Efficient Air Conditioner
Not only does AC maintenance in Fort Pierce result in fewer repairs needed, but it also results in a more efficient air conditioner system overall. The system remains clean and unimpaired, which allows it to function at maximum capacity.
This is good not only for the performance of your air conditioner, but for your energy bill as well. The more efficiently your AC runs, the less money you'll need to spend on energy costs.
Saves Money
We've already highlighted this to an extent, regular AC maintenance saves you money in the long run. Yes, you need to pay a bit of money to keep your AC maintained, but it pales in comparison to the amount of money that you would need for regular repairs, or on the amount of money you would need to run an inefficient air conditioner.
When you partner with an AC maintenance company in Fort Pierce, Florida, you can think of it as an investment. You spend a bit of money now so that you can save a lot of money over time.
A Longer Lasting Air Conditioner
The next benefit of AC maintenance is a longer lasting air conditioner. As was noted above, regular maintenance reduces wear and tear within the AC system. In doing so, it prolongs the lifespan of individual components, and therefore allows the AC to function for a longer time overall.
This, of course, results in money savings over time, as you can go longer without having to pay for a new AC unit. The longer you can go between different units, the more money you'll save.
Cleaner Air
Two key components of air conditioner maintenance are filter changes and duct cleaning. These two components help to keep the AC system cleared of dust and debris. As a result, the system pumps less dust and debris into the indoor environment.
The result of this, of course, is cleaner and more breathable air. When you work with a Fort Pierce, Florida AC maintenance company, not only will your home feel less stuffy, but you'll also reduce the risk of allergies and other such ailments.
The key is to change your filters every two to three months and to clean your ducts every three to five years. Assuming you keep up with this timeline, the air inside you home should remain clean.
Looking for a Professional AC Maintenance Company in Fort Pierce, Florida?
Could your air conditioning system benefit from a tune-up? If so, the experts at All American Air & Electric are the people to call. As the top-rated AC maintenance company in Fort Pierce, Florida, we have performed maintenance on countless AC systems throughout the Fort Pierce area. Regardless of the type of air conditioner you have, we can get the job done right.
Contact us today to get started.