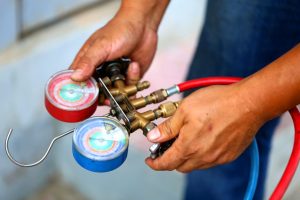 The temperatures are rising again here in Ocala, which means your air conditioner is soon to be busy. If there are any issues with your air conditioning system, now would be a great time to have it looked at.
The only problem is that it's sometimes difficult to tell whether there are problems with your system. Are you wondering whether it's time to call an AC repair company in Ocala, Florida? Here are some of the signs to look out for:
Is There a Leak by Your AC Condenser?
Do you notice a leak by your AC condenser? If so, there's a good chance that your system is leaking refrigerant, which will require a repair. Refrigerant sometimes leaks out of the refrigerant line when it's punctured by a rock, fallen branch, lawn mower, or some other object.
Air conditioners can't run without refrigerant. Until the leak has been patched and a new batch of refrigerant has been added, you won't be able to receive cold air.
Fortunately, this can be quickly fixed by your local AC repair company in Ocala, Florida. They'll patch up the line and add fresh refrigerant for you, getting your AC up and running again in no time.
Do Your Rooms Possess Different Temperatures?
Another sign that you need AC repair is that your rooms possess different temperatures. In other words, one of your rooms is at 68 degrees while another of your rooms is at 73 degrees.
What might cause this problem? In many cases, it has to do with your air ducts being clogged. Because they're blocked up with dust and other debris, they aren't allowing produced air to travel freely. The air is having trouble getting to select rooms, thereby creating variations in temperature.
How do you fix this issue? It's as simple as cleaning your air ducts. Your local HVAC company can help you with the task.
Is Your AC Short Cycling?
In some cases, an air conditioner will start short cycling. This is when an air conditioner runs for a few seconds, turns off for a few seconds, and then repeats the process repeatedly.
While a short cycling air conditioner might make the room cool, that doesn't mean that it doesn't need repair. A short cycling air conditioner is also an inefficient air conditioner. Until it's fixed, it's going to take on unnecessary wear and tear and use unnecessary amounts of energy.
Curious as to what might be causing the short cycling? It could be a range of things, from a bad connection with the thermostat to worn-down sensors and more. The only way to find out for sure is to have the issue assessed by a professional AC repair company in Ocala, Florida.
Is Your AC Making Strange Noises?
The last sign that you need AC repair is that your AC is making strange noises. These could be anything from squeaking noises to banging noises and more. If they're not typical, they will most likely require further inspection.
Whereas squeaking noises often indicate a broken belt, banging noises most typically indicate an impaired condenser. Grinding noises could indicate damaged components within the condenser or the blower.
In any case, it's best to have your system inspected by an Ocala AC repair company. They'll get to the root of the issue and make any necessary repairs.
Looking for the Top-Rated AC Repair Company in Ocala, Florida?
Have you noticed any of the signs reviewed above with your air conditioner? If so, and if you're looking for the top-rated AC repair company in Ocala, Florida, look no farther than All American Air & Electric.
Regardless of the type of air conditioning system you have, our technicians can get the job done right. Contact us today to schedule an appointment.