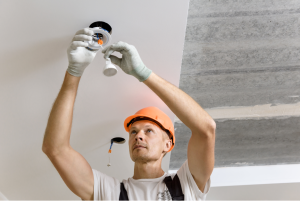 Electrical work is complex and often dangerous. Whenever you come across an electrical issue in your home, it's best to let an experienced electrician handle the repair.
The question is, how can you tell when an electrician is needed? Below, this licensed electrician in Ocala, Florida is going to discuss four signs to look out for.
1. You Need to Install an Electrical Fixture
Whether it's a light fixture, an outlet, or some other electrical entity, if you're looking to install it, you're strongly advised to utilize the services of an electrician.
Electrical installation is complex and, if done incorrectly, it can be quite dangerous. Only a professional electrician has the skill and experience needed to install electrical fixtures in a safe and functional manner.
This isn't to say that you couldn't attempt your own electrical installations. However, if you do, you're strongly advised to have them assessed by a licensed electrician in Ocala, Florida after you're done.
2. There's Something Alarming About Your Outlets
If you are like most homeowners, then you probably use your outlets every day. Most days, they're entirely unremarkable. However, on occasion, there might be something about them that alarms you.
For instance, they might be hot to the touch. They might produce sparks when you plug something into them. They might not be tight enough to hold onto plugs consistently.
If any of these ring true to you, it's strongly recommended that you have your outlets checked by a licensed electrician in Ocala, Florida. They might need repair and they might even need to be replaced. Regardless of what needs to be done, you shouldn't hesitate to contact the professionals — with something as significant as your electrical system, it's better to be safe than sorry.
3. You Want to Set Up a Permanent Generator
Due to weather like lightning storms, tornadoes or otherwise, our homes sometimes lose power. When this occurs, you are unable to cool or heat your home.
This is where a permanent generator can come in handy. A generator enables you to convert gas to electricity, allowing you to keep your heat and/or air conditioning running regardless of the state of the power grid.
Interested in installing a generator? If so, a licensed electrician in Ocala, Florida is the person to call. They'll not only install your generator for you but help you choose the correct model as well.
4. Your Electrical System Needs an Inspection
Thinking about buying a new home? Has your existing home recently suffered storm damage? Maybe your electrical system is acting funny compared to the way that it used to? In any of these cases, an electrical inspection is warranted.
Electrical inspections are important for ensuring the safety and functionality of an electrical system. They should be carried out every five years or so, or in the case of one of the above reviewed events.
Not sure about spending money on an inspection? Think of it as an investment in your electrical system. An inspection will enable you to find small problems before they become big problems, thus saving you money in the long run. Interested in scheduling an inspection? Your local Ocala electrician can get the job done for you.
Looking for a Licensed Electrician in Ocala, Florida?
Are you currently dealing with any electrical issues in your home? Ready to have them repaired by a licensed electrician in Ocala, Florida? If so, All American Air & Electric is the company to call. Whether you need an electrical installation, inspection, or repair, we know how to get the job done safely.
Contact us today to get started.