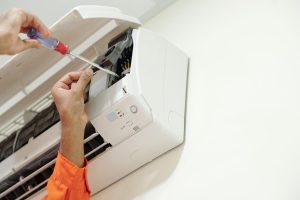 Is your air conditioner working properly? It's important for homeowners to be aware of the signs that your AC needs to be repaired.
Are you curious as to what these signs include? This AC repair company in Vero Beach, Florida is going to discuss everything you'll need to know below.
Your Refrigerant Line Is Leaking
A sure sign that you need an air conditioner repair is that your refrigerant line is leaking. Refrigerant should never leave the AC system. If it does, the AC will no longer produce cold air.
Your refrigerant line is connected to the condenser outside of the house, and it runs into the blower inside of the house. It's covered in insulation and should be easy to spot.
What do you do if your refrigerant line is leaking? Patch it up and fill the system with fresh refrigerant. Once you do that, everything should be back to normal again. Your local AC repair company in Vero Beach, Florida can assist you with this task.
Your Temperatures Are Inconsistent
Another sign that you need an air conditioner repair is that your room temperatures are inconsistent. For instance, if one room is 70 degrees while another is 74 degrees, it could indicate a problem.
In most cases, this is caused by dirty ducts. The debris within the ducts blocks the air, preventing it from getting where it needs to go, and creating temperature variations throughout the house.
The remedy is to clean the ducts. If you're unable to do it on your own, you can hire a reputable Vero Beach AC repair company to handle it for you.
Your AC Is Short Cycling
A common problem among air conditioners is the problem of short cycling. This is when the air conditioner starts up, runs for a few seconds, then shuts off for a few seconds and repeats the process repeatedly.
While this might not seem like a massive problem (especially if you're getting the temperatures you desire), it most certainly is. Not only does it result in energy efficiency issues but undue wear and tear as well, both of which will cost you money over time.
Short cycling can be caused by a variety of factors. In some cases, a mis-sized AC unit is the problem. In other cases, there are issues with the sensors in the air conditioner, or with the thermostat.
Regardless, this is a problem that requires professional attention. Your HVAC technician can help discover the source of the issue and take action to remedy it.
Your Air Conditioner Is Making Strange Noises
The last sign that your air conditioner needs repair is that it's making strange noises. Any noise that's out of the ordinary should be taken seriously.
For instance, if your AC is making a squeaking noise, it's likely due to a broken or loose belt. If it's making a banging noise, it's likely due to there being something stuck in the condenser.
Regardless, professional attention is necessary. You should have your local AC repair company in Vero Beach, Florida inspect your system to determine where the noise is coming from.
Looking for an AC Repair Company in Vero Beach, Florida?
Is your air conditioner showing signs of damage? If so, and if you're looking for the top-rated AC repair company in Vero Beach, Florida, look no further than the professionals at All American Air & Electric.
Our technicians have repaired countless air conditioners throughout Vero Beach and the surrounding areas. We can have your AC working like new again in no time. Contact us today to schedule an appointment.