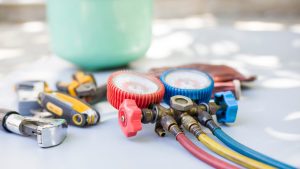 Air conditioners will generally thrive through all sorts of adversity. However, they're not indestructible. Air conditioners do experience problems from time to time, and when that happens, they will need to be repaired.
Are you wondering whether your air conditioner currently needs to be repaired? Below, this AC repair company in Stuart, Florida is going to discuss some of the most common signs that it's time to call the professionals.
Your Refrigerant Line Is Leaking
The first sign that you need to have your AC repaired is that there is a leak in your refrigerant line. This is the insulated cable that runs from the condenser into the home. If it is damaged, it could start to leak fluid.
This is a problem, because eventually, all the refrigerant will leak out of the AC system. Once this occurs, the AC will fail to create cold air.
Fortunately, your local AC repair company in Stuart, Florida can quickly fix these types of problems. They'll be able to patch up the damaged line and then fill your system with fresh refrigerant.
Your AC Is Taking a Long Time to Adjust
Another sign that your AC needs repair is that it's taking a long time to adjust to thermostat changes. In most cases, an AC should kick in within 30 seconds of a thermostat change. If it's taking over a minute for the AC to kick in, there's most likely something wrong.
The culprit could be several things. There could be poor connectivity between the thermostat and sensors. The sensors could be dirty. There might even be issues with a motor.
Regardless, this is something that requires the attention of a professional. You'll want to have it inspected by your local Stuart AC repair company. Their technicians will be able to identify the source of the problem in no time.
Your Rooms Have Differing Temperatures
In some cases, you'll have a situation in which one or more of your rooms is a different temperature than your other rooms. For instance, one room might come in at 72°F, while another might be at 68°F.
This is not normal. While it can be caused by several factors, it's often caused by a dirty duct system. Dust and debris pile up within the ducts, thus blocking airflow to one or more rooms. This naturally results in a temperature difference.
If this is the issue, it has an easy fix. All you have to do is clean out your air ducts. A reputable AC repair company in Stuart will be able to perform this service.
There Are Strange Noises Coming from Your AC
The last sign that you need an air conditioner repair is that there are strange noises coming from your AC. We're talking about remarkably notable noises, ones that you've never heard before.
For instance, you might hear a squeaking noise. If so, you're probably hearing a broken or loose belt.
You might instead hear a clunking or banging noise. This is usually indicative of something being stuck in the condenser. In any case, if you hear a strange noise from your AC, you should call an HVAC repair technician in Stuart, Florida.
Looking for the Premier AC Repair Company in Stuart, Florida?
Do you need to have your air conditioner repaired by a professional? If so, and if you're looking for the premier AC repair company in Stuart, Florida, All American Air & Electric is the company to call.
Regardless of the type of AC you have, our team will be able to diagnose and repair any problem your system might be facing. Contact us today to schedule a repair.