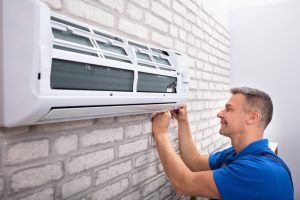 Are you ready to replace your home's old air conditioning system? While finding the right AC system is important, it's equally important that you find a trustworthy air conditioning installer to work with.
Do you need some help finding the right one? If so, you've come to the right place. Below, this air conditioning installation company in Fort Pierce, Florida is going to explain the things you should look for in an air conditioning installer.
Ample Experience
First and foremost, you'll want to ensure that your chosen AC installer has ample experience. Experience is vital, as it allows an HVAC technician to iron out their mistakes and dial in on their operational processes.
One thing to note here is that an inexperienced installer might be able to get the job done right. However, hiring an inexperienced technician is somewhat risky, as they might still be learning the intricacies of the job.
We recommend hiring an AC installation company in Fort Pierce, Florida that has a minimum of two years of experience. This is generally enough time for an AC installer to work through any issues.
A Solid Reputation
In addition to having sufficient experience, your AC installation company in Fort Pierce should also have a solid reputation. After all, if an installer has a positive reputation, they have most likely done good work in the past.
Now, how can you get a feel for a specific installer's reputation? One of the best ways is to read online customer reviews. These can be found at Google, Yelp, Facebook, etc. If the reviews are mostly positive, the installer is likely a solid option.
Proper License
In the State of Florida, HVAC companies are required to obtain HVAC licenses from the state. If they don't possess the necessary license, they are operating illegally, which means you should avoid working with them.
Now, you might be wondering: how can you determine whether a company is licensed or not? Fortunately, there's a tool you can use to find out. It's the Florida license lookup tool, and it shows consumers a list of licenses a company holds.
You can use this tool by clicking here. Then, all you'll have to do is enter the name of your prospective company. If an HVAC license pops up, they should be good to go.
The Types of Services You're Looking For
Not all Fort Pierce AC installation companies provide the same services. Whereas some will provide both commercial and residential services, others will provide only commercial services, or only residential services. While some will install central ACs, ductless mini-splits, heat pumps, and more, others will install only one or a few of these options.
The point is, it's important to look for an installer who can meet your needs. To do this, you can go to the company's website and click on the 'Services' tab. This should provide you with all the information you're looking for, but if it doesn't, you can always make a call to find out.
Reasonable Prices
Different AC installers in Fort Pierce charge different prices. As such, when searching for an installer, you'll want to find one whose prices fit within your budget.
To do this, you can call your prospective installers and ask them for price estimates. Any reputable AC installer should provide you with an itemized estimate after you request one.  Once you have the estimates in your hand, you can compare them to determine which one is best.
Looking for the Top-Rated Air Conditioning Installation Company in Fort Pierce, Florida?
Are you ready to install a new air conditioner? Looking for the top-rated AC installation company in Fort Pierce, Florida? If so, look no further than the team at All American Air & Electric.
Our crew has installed countless air conditioning systems throughout the Fort Pierce area. Offering central ACs, ductless mini-split systems, and heat pumps, we're sure to have an AC unit that suits your home. Contact us today to request a free quote.