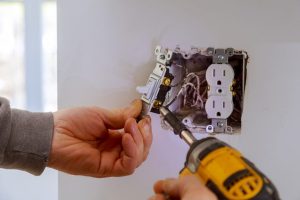 At some point or another, most homeowners will need to hire an electrician. Whether it's because you need to have an electrical system repaired, maintained, inspected, or installed, a licensed and certified electrician will be able to get the job done safely.
Are you wondering whether you should call an electrician in Central Florida? Here are five signs that you should:
1. Your Lights Are Flickering
One sign that you might need to call an electrician in Central Florida is that your lights are flickering. Now, this doesn't mean that a single instance of a flickering light is a cause for concern. However, if your lights flicker on a regular basis, there's no doubt: you should contact an electrician.
The most likely reason for flickering lights is worn down and deteriorated wiring. Note, though, that bad light bulb fixtures could be a cause as well, as could power surges.
Regardless of the cause, your Central Florida electrician will be able to inspect your electrical system and diagnose the issue. He or she can then take the necessary action to fix it.
2. Your Circuit Breakers Keep Tripping
Does your circuit breaker trip every time you turn on multiple appliances on the left side of your kitchen, for example? This is a more common problem than you might think, and it's also a sign that your electrical system needs an inspection.
Fortunately, this is a problem that can be fixed. Your Central Florida electrician will most likely need to reroute a few wires, and soon enough, your electrical system will be able to operate without any issues.
3. Your Outlets Are Warm or Sparking
Another sign that you should contact a licensed electrician in Central Florida is that your outlets are warm or sparking. If this is the case, it's likely due to bad wiring around the outlet. Either that, or there are power surges occurring in your electrical system on a regular basis.
Regardless, this is a problem requires professional attention. Both problems could lead to a house fire, making it a safety hazard. In most cases, these issues can be repaired quickly by a professional electrician in Central Florida.
4. You're Trying to Install Your Own Wiring
Maybe you've recently added a room onto your home and are attempting to install new electrical wiring by yourself? If so, your effort is certainly commended.
However, regardless of how confident you are in your work, it's strongly recommended that you have the system inspected by a professional electrician when you're done. Electrical wiring can quickly turn into a safety hazard, particularly if it's installed incorrectly. As such, you should schedule an electrical inspection to ensure that everything was done correctly.
If you did make any mistakes, your Central Florida electrician can point them out and/or repair them for you. At the end of the day, it never hurts to have a second set of eyes looking over your work.
5. You Need Help Installing an Electrical Appliance
The last reason to call up a Central Florida electrician is that you need help installing an electrical appliance. This could be a light fixture, a hot tub, a generator, or otherwise. In any case, your local electrician can help you with the task.
Looking for a Licensed Electrician in Central Florida?
Are you in need of an electrician? If so, and if you're looking for a licensed and reputable electrician in Central Florida, the electricians at All American Air & Electric are here to help.
Our crew is well-versed in all types of residential electrical work. Regardless of your electrical needs, we can get the job done safely and correctly. Contact us today to schedule an appointment.