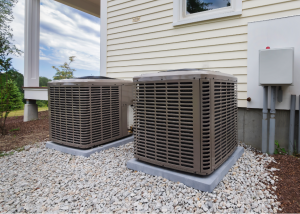 When it comes to air conditioning units, there are several different types to choose from. Each of these has a different set of benefits and drawbacks, with some serving certain purposes better than others.
Are you interested in learning more about the different types of air conditioners that are available? This air conditioner installation company in Fort Pierce, Florida is going to review the different types below.
Central AC
The most popular type of air conditioner in Fort Pierce is the central AC. This type of air conditioner consists of an outdoor condenser unit, an indoor blower unit, and a series of air ducts. These air ducts are installed throughout the house, and they connect to each room through a vent. This system of air ducts allows the blower to distribute cold air throughout the entire home.
Installing a Central AC in Fort Pierce, Florida is an affordable way to cool an entire home. A single central AC unit typically costs between $2,500 and $7,000. Note, however, that if you also need to install a new duct system, you could end up paying into the tens of thousands depending on the size of your home.
With that said, if whole-home cooling is the goal, a central AC system is generally the best option. Your local air conditioning company in Fort Pierce can install one for you.
Ductless Mini-Split Air Conditioning
Central AC is one of the best whole-home cooling solutions available. However, if you're looking for a single-room cooling solution, you should consider installing a ductless mini-split system.
These systems are installed directly into walls. Their condensers are positioned on the outside of the home, while their blower is positioned on the inside of the home.
While these systems are generally only used in a room or two, you do have the option to use them in every room of your house. In this case, you would have the option to set a different temperature in every room, allowing for greater indoor comfort for every person in the house.
Heat Pumps
Another cooling option to consider is the heat pump. Heat pumps make use of geothermal energy, transferring it into hot or cold air, then pushing it through either a ductless mini-split or a full-on duct system.
Not only are heat pumps very energy efficient, but they're also capable of both heating and cooling your home. They sometimes struggle to produce heat in exceedingly cold temperatures, but that's not much of a concern in Central Florida.
One potential downside to heat pumps is that they tend to be on the expensive side. However, because of their ability to provide both heat and cold, they're generally a solid investment. If you're thinking about installing a heat pump, your air conditioner installation company in Fort Pierce, Florida will be happy to answer any questions you have.
Window AC
The last air conditioner we're going to discuss is the window AC. This is a small AC unit that you place in your window. The window clamps down and holds the unit in place, ensuring that it doesn't fall out.
Windows ACs are beneficial when you don't have a permanent system installed. However, they are lacking in terms of energy efficiency. As such, they're relatively expensive to run. Plus, on particularly hot and humid days, they can struggle to keep a room cool.
Another potential downside to window ACs is their aesthetics. They're not designed to be aesthetically discrete, and they could possibly drag down the overall appearance of your property.
Looking for an Air Conditioner Installation in Fort Pierce, Florida?
Are you looking to install a new air conditioner in your home? Looking for the premier air conditioner installation company in Fort Pierce, Florida? If so, the team at All American Air & Electric is here to help.
We have installed air conditioners in countless homes throughout the Fort Pierce area. Regardless of your needs, we have you covered. Contact us today to discuss your options.