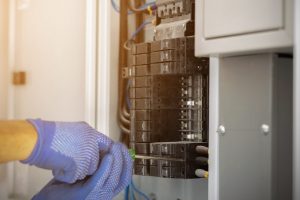 Do you need to install some new wiring in your home or commercial property? Maybe your electrical system could use a general inspection? In any case, if you're reading this article, then you're most likely looking for a reputable electrician in Port St Lucie.
Now, the question is: how do you find the right electrician? This electrical company in Port St Lucie, Florida is going to explain the things you should look for below.
Experience
One of the most important things to look for in a Port St Lucie electrician is experience. Experience is important, as it gives an electrician time to work through mistakes and improve their skills. If you hire an electrician that is relatively inexperienced, there's a chance they make a mistake during your project.
Now, how much experience should your chosen electrician have? Ideally, your electrician should have a minimum of two years of in-field experience. This is generally enough time for an electrician to hone their skills and provide a quality service.
Insurance
When an electrician comes to work on your property, there's a risk that they could cause damage to it in some way. Ideally, this won't happen. However, accidents do still occur.
To ensure that you're not left paying for any damages, you'll want to make sure your chosen electrician has insurance. Insurance will cover not only damage to your property, but injuries that occur to the electrician's employees while on your property.
Make sure you ask to see proof of both general liability and workers' compensation insurance, specifically. If your electrician has both, you should be fully covered.
Proper License
In the State of Florida, electricians are required to be licensed with the state. If they're not, they are technically operating illegally, and they should be avoided at all costs. As such, before hiring an electrician in Port St Lucie, you should verify that they have a valid electrician's license.
How can you do this? In Florida, you can use the state's license lookup tool. This allows you to look up the licenses of different electrical contractors in your area. You can use this tool by entering your prospective electrician's name and seeing what licenses come up.
If the search reveals that they have a valid license, your chosen electrician is good to go. If the license doesn't show up, it's best to consider other options.
Reasonable Rates
Not all electricians charge the same rates. In fact, prices can vary wildly based on the electrician that you choose. As such, before hiring a Port St Lucie electrician, it's important to ask for an estimate.
An estimate helps ensure that you don't end up spending more than you hoped to spend. Any reputable electrician will provide you with an estimate upon asking. If an electrician doesn't provide you with an estimate, you probably shouldn't utilize their services.
Ideally, you will obtain estimates from several electricians in Port St Lucie, Florida This way, you'll have an idea as to what the average prices are in your area. One thing to note here is that the lowest estimates aren't always the best ones. In some cases, they're indicative of a poor service.
Ready Partner with the Premier Electrical Company in Port St Lucie, Florida?
Are you looking for the premier electrical company in Port St Lucie, Florida? If so, the electrical professionals at All American Air & Electric have you covered.
Our electricians are licensed, insured, and experienced. We are well-versed in all aspects of electrical systems, and we've worked with countless home and business owners throughout the Port St Lucie area. Contact us today to learn how we can help.