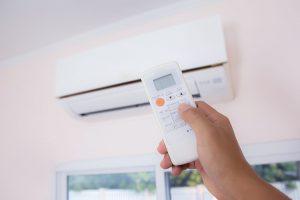 As you're probably aware, the summer heat in The Villages Florida can be brutal — and the humidity is just as bad. As such, having an efficient and reliable air conditioner is a must.
Now, all that's left to do is choose the right type of air conditioner. But the question is: which type should you pick? Great question, and it's one that we can help you answer. Without further ado, this top-rated air conditioning company in The Villages Florida is going to review your options below.
Central AC
We'll begin by talking about Central AC. Central AC covers the entire home, utilizing a series of air ducts as a means of distributing air from room to room. Because it makes use of only a single unit, it's one of the most cost-effective whole-home cooling options available.
Central AC is exceedingly popular in The Villages Florida, as the high temperatures and humidity levels typically command climate control for the entire house. A terrific long-term option, Central AC units typically last between 10 and 15 years.
If you're looking to get the most value for the price, installing a Central AC system is a great choice. You'll be able to cool your entire home for a reasonable price every month.
Ductless Mini-split System
If you're only looking to cool a single room, or if you'd like to have some temperature variation from room to room, you should consider installing a ductless mini-split system in your The Villages Florida home. These systems are mounted to the wall, and they are only designed to provide cooling to a single room.
Some homeowners choose to install these in only in the most used areas of the home, but you could install them in every room if you wish. Note, however, that installing multiple ductless mini-splits could cost quite a bit more than installing a central AC unit. This is because a single central AC unit can cool an entire home, whereas it would require several ductless mini-split units to do the same. In other words, mini-split systems are more affordable for single-room cooling, but much more expensive for whole-home cooling.
Aesthetically, ductless mini-split systems are rather noticeable. Because they are mounted to interior walls, they have in impact on the aesthetics of the room where they're installed. This is the opposite of a central AC, which is visible only by small vents throughout the house.
There are two main benefits of installing ductless mini-splits in The Villages Florida: 1. Ease of installation, and 2. Temperature variation throughout the house. They can typically be installed rather quickly, and, because they work on a room-by-room basis, they can offer up different temperatures as needed.
Heat Pump
The last option we'll discuss is the heat pump. The heat pump makes use of geothermal energy, taking air from the ground, heating or cooling it, and then sending it into the adjacent house. It operates very affordably, and it's capable of providing both cold and heat.
Heat pumps are a little more expensive to install. However, when you consider the fact that they're capable of providing both heating and cooling, they're offer a lot of value for the price. While they sometimes struggle in extremely cold temperatures, they thrive in all other temperatures. This makes them solid options for The Villages Florida homeowners.
Ready to Install a New Air Conditioner? Contact the Top-Rated Air Conditioning Company in The Villages Florida
Have you made your choice? Looking to partner with the top-rated air conditioning company in The Villages Florida? If so, All American Air & Electric is the company to call.
Our AC installation specialists have installed air conditioners in countless homes throughout the area. Whether you're looking to install a central AC unit, a ductless mini-split system, or otherwise, we can accommodate you. Contact us today to request a free quote.