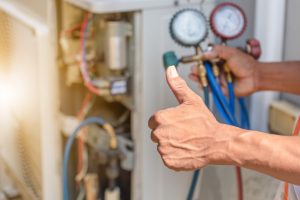 If you want to get the most out of your air conditioner, it's important that you maintain it on a regular basis. By not performing routine maintenance on your air conditioner, it will not only hurt the efficiency of the unit, but its lifespan as well.
Are you wondering what kind of maintenance an air conditioner requires? Then read below. This Port St Lucie air conditioning company is going to discuss everything you'll need to know.
Change the Air Filter
One of the most important things to do in terms of air conditioner maintenance is to change the air filter. This is a filter that's designed to catch dust and other debris. It helps keep the indoor environment clean, while also taking strain off the air conditioner itself.
Unfortunately, in just a short time, this filter becomes inundated with dust. This puts additional stress on the air conditioning unit, resulting in problems with both lifespan and energy efficiency.
As such, it's recommended that you replace your air filter every one to two months. If you have pets in your home (which creates even more debris), you should think about replacing your air filter even more frequently.
Clean the Coils
Inside your air conditioner condenser is a set of condenser coils, and inside your air conditioner blower is a set of evaporator coils. These are responsible for producing cold air.
However, over time, they can become exceedingly dirty. When this occurs, they can't perform their job as efficiently as they need to, which can lead to all kinds of issues.
Because of this, it's important that you have the coils in your air conditioner cleaned. Have them scrubbed at least once a year, and if they're still not performing up to expectations, you may need to have them replaced. As always, your local Port St Lucie air conditioning company can help you with this.
Keep the Condenser Area Clean
Your air conditioner condenser exists on the outside of your home. As such, it's exposed to everything from sticks, to branches, to dirt, to wildlife, and more.
In many cases, your AC condenser will remain unbothered by these entities. However, in some cases, these entities can get into the condenser, causing a jam. This can put substantial wear and tear on the condenser, which can impair its functionality.
As such, it's important that you keep the condenser area clean. Inspect the inside of the condenser every few weeks and make sure to trim back any trees and hedges in its general proximity. There should be about five feet of clearance on each of the condenser's sides.
Straighten the Fins
On the outside of every air conditioning condenser is a series of metal fins. These are thin, narrowly spaced pieces of metal that help to process heat and cold, and they are integral to the condenser's functionality.
Unfortunately, over time, these fins can become bent. To keep them in good shape, you can straighten them out. Take a knife and run it between each fin, doing so every six months or so. This should help to maintain optimal functionality over time, allowing the air conditioner to perform its job with maximum efficiency.
If you need help with this task, your local AC maintenance company in Port St Lucie can assist you.
Looking for an Air Conditioning Maintenance Company in Port St Lucie, Florida?
Do you need some help maintaining your air conditioner? Are you looking to utilize the services of a professional Port St Lucie air conditioning maintenance company? If so, we here at All American Air & Electric have you covered.
Our air conditioning experts are well-versed in the maintenance of all types of air conditioners, and we will do everything necessary to ensure that yours is running properly. Contact us today to schedule an appointment.