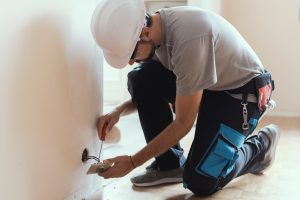 Maybe you need to have your home re-wired? Perhaps you're looking to install new lighting? In any case, if you're reading this article, then you're most likely looking to hire an Ocala electrician.
Now, the question becomes: what should you look for in an electrician? How do you find the right one? These are great questions, and they're ones that we're going to answer below. Without further ado, here are some things you should consider when looking for an electrician in Ocala, Florida:
Experience
First and foremost, you'll want your electrician to be experienced. Electrical work is complex — approaching it in the wrong way can create a very dangerous situation. You'll want to look for an electrician who knows what they're doing.
This isn't to say that new electricians can't get the job done. It's just that they're a bigger risk, and therefore, they generally aren't worth the trouble they might bring.
We recommend choosing an electrician with a minimum of three years of professional experience. Any electrician who has maintained a positive professional reputation over this amount of time will likely have the ability to get the job done right.
A Solid Reputation
Perhaps the most important thing to look for when hiring an electrician is a solid reputation. If an electrician has a positive reputation, there's a good chance that he or she will provide a good service. Conversely, if an electrician has a negative reputation, there's a chance that he or she will provide a poor service.
You can assess an electrician's reputation by looking at reviews on Facebook, Yelp, and Google. Each website will likely have reviews from a number of past customers.
Licensure
In the State of Florida, electricians are required to be licensed with the state. If an electrician is working without a license, he or she is operating illegally, and should be avoided entirely.
Fortunately, it's easy to determine whether a specific electrician is licensed or not. All you have to do is use the Florida license lookup tool.
You can type in the name of the electrician or business and see if an electrician license pops up. If it does, that electrician or business will be good to go.
Insurance
Not only is licensure important, but insurance as well. Any electrician that you bring into your home should have insurance. This insurance will not only cover damages that your electrician may cause to your home, but it will also cover injuries that may occur to your electrician's employees while on your property.
There are two types of insurance to inquire about: general liability insurance and workers' compensation insurance. It's best to see proof of both before signing any contracts.
Reasonable Rates
Not all electricians charge the same rates. In fact, some electricians charge significantly more than others. With that being said, before choosing an electrician, you'll want to obtain a written estimate for the work that you need to have done.
Any reputable electrician will provide you with an estimate upon inquiry. If an electrician won't give you an estimate, or if he or she is reluctant to give you one, you should avoid his or her services entirely. There's no good reason for an electrician not to give you an estimate.
The final thing to note here is that, when comparing different electricians' rates, you should be a little wary of rates that are much lower than the others. If an electrician's rates are especially low, it might be a sign of poor service.
Looking for a Reputable Electrician in Ocala, Florida?
If you're looking for an Ocala electrician that you can trust, there's no need to look any further. We here at All American Air & Electric have you covered.
Our licensed electricians provide all types of electrical services. Regardless of the services you need, we can help. Contact us today to request an estimate!