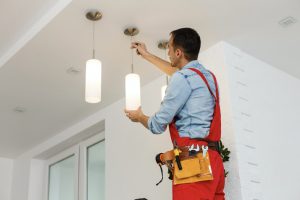 You're probably well aware of what an electrician is. In fact, you probably have a general idea as to what an electrician can do. However, do you know exactly what types of services an electrician can provide?
If not, then you're in the right place. Without further ado, here is a list of electrician services in Port St Lucie, Florida:
Install Electrical Appliances
Perhaps you're looking to install a new light fixture? Maybe you need to install electrical hookups for a new hot tub? In any case, if you need electrical installation services, a licensed electrician can provide them. Licensed electricians are highly experienced in the installation of electrical appliances, and they will be able to set yours up in the safest and most optimal way possible.
Sure, you could attempt to install electrical appliances on your own, but there's a chance that you could run into problems. Not to mention, you could end up installing your appliance in an incorrect manner, creating a hazard. Don't put your home or your safety at risk — instead, it's recommended that you have your appliances installed by a professional.
Repair Electrical Systems
Electrical systems consist of all types of entities, including outlets, wiring, circuit breakers, and much more. Though these entities are supposed to be set up in a way that allows them to thrive untouched for decades, they can still take on wear and tear from time to time. Problems can arise as a result of this wear and tear, which can, in turn, lead to the need for electrical repair.
Who do you call when an electrical repair is needed? There's nobody better suited for the job than an electrician. Whether wiring needs to be soldered, a circuit breaker needs to be replaced, or an outlet needs to be swapped out, an electrician can help you with the task.
Light a Commercial Sign
Do you own a business? Are you hoping to attract more attention from the road? If so, installing a sign for your business could go a long way.
However, you shouldn't just install a bare sign. You should light up that sign so that it can be seen equally as well at night. Wondering who can help you light up your sign? Your local Port St Lucie electrician!
Inspect Your Port St Lucie Electrical System
Electrical systems generally perform well on their own — in other words, they don't need a lot of supervision. However, that doesn't mean that they shouldn't ever be checked on. Things can go wrong, and because electrical wires are hidden behind walls, it can be difficult to tell when they've incurred problems.
For this reason, professional electrical inspections are recommended every two years or so. These should be carried out by professional electricians who can assess every part of your electrical system to ensure that it's still safe, functional, and up to code.
If you haven't checked on your electrical system in a while, we recommend that you call your local electrician to schedule an inspection.
Provide Your Electrical System with Surge Protection
There are all sorts of things that can cause power to surge through an electrical system at inordinately high levels. However, regardless of the cause, power surges are a problem.
Want to stop power surges from happening? An electrician can help. By installing a whole-home surge protector, you can eliminate all risk of power surges in your home, making it a safer and more functional place.
Looking for Electrician in Port St Lucie, Florida?
Are you interested in utilizing any of the services discussed above? Do you need electrician services in Port St Lucie? If so, All American Air & Electric is the company to call.
Our team of electricians has served countless home and business owners throughout the Port St Lucie area. Regardless of your needs, we are here to help.
Contact us today to discuss your needs!