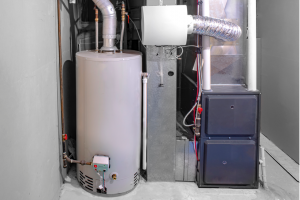 The weather doesn't get too cold down here in Ocala, but it still gets cold enough to demand some manufactured heat from time to time. As such, as an Ocala resident, you might be interested in installing a heating system.
The question is: what kinds of heating systems are available? That's a good question, and it's one that we're going to answer in detail below. Without further ado, here are the various types of heating and furnace systems that are available in Ocala, Florida:
Furnace
If you're looking for a whole-home heating solution, you should consider installing a furnace. A furnace works in tandem with a duct system as a means of transferring manufactured air throughout a home.
Furnaces are cost-effective for heating entire homes, but they can be relatively expensive if you only need to heat a room or two. Not to mention, they don't allow for any temperature variation from room to room.
There are both oil and electric furnaces available. Apart from the way that they're fueled, they operate in the same way. For more information about these systems, give us a call!
Ductless Mini Split
If your goal is to heat only a room or two, your best option would be a ductless mini-split system. Ductless mini-split systems are mounted on interior walls, and they deliver forced air to the areas in direct proximity to them.
They are highly efficient, with almost no heat loss whatsoever. Note, though, that they run on electricity, which is a little more expensive than gas.
Ductless mini-splits also allow for temperature variation from room to room. In other words, if you want a 72°F temperature in one room and a 70°F temperature in another room, you can install two ductless mini-split systems and make it a reality.
It's important to note, however, that if you're looking to heat your entire home, ductless mini-splits would be an expensive option. This is because you would need four or more systems, with each costing a few thousand dollars to install.
Portable Heater
One last option to consider is the portable heater. Portable heaters can be purchased from big box stores. They run on electricity and are, generally speaking, extremely inefficient.
The upside to portable heaters is that — as the name suggests — they're portable. They can be moved from room to room as desired. However, they have very small coverage areas, and generally don't provide thorough heating.
Simply put, portable heaters are not viable long-term heating options. They can work in a pinch, but they shouldn't take the place of the heating systems reviewed above. They are far too inefficient, and they're relatively expensive to run.
Looking for a Heating and Furnace Company in Ocala, Florida?
Are you interested in installing a new furnace or heating system? Looking for a reputable Ocala heating or furnace company? Look no further than the professionals at All American Air & Electric.
We offer a variety of heating systems, including furnaces, boilers, ductless mini-splits, and more. Regardless of the type you choose, our skilled team can install it for you.
Contact us today to get started!