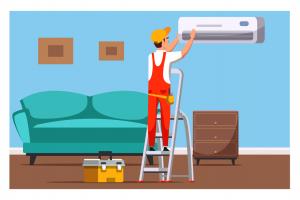 There are a variety of different air conditioners on the market today, and each of these offers different upsides and downsides. Some of the most popular options include central AC, window ACs, and, of course, ductless air conditioners. In this article, we're going to discuss the latter.
Are you wondering whether you should install a ductless air conditioner? This Ocala HVAC company has you covered. Here are the top reasons to do so:
Ductless Air Conditioners Allow You to Set Different Temperatures in Different Rooms
Whereas central ACs can only produce a single temperature for an entire house, ductless air conditioners allow different rooms to have different temperatures.
Do you have a room that is typically warmer than the other rooms in your house? If so, a series of ductless ACs could serve you well. Does your son or daughter get cold easily? A series of ductless ACs would allow your family to set their own temperature in their rooms, ensuring that everyone stays comfortable all day long.
The more ductless ACs you have, the more temperature variation you can have. If every room contains a ductless system, every room can have its own temperature.
Ductless Air Conditioners are Easy to Install
Depending on your situation, installing a central AC could affect your home for quite a long period of time. After all, installing a duct system isn't exactly a quick or easy process.
However, when you install a ductless air conditioner, the installation process is much simpler. Generally speaking, an HVAC specialist can set up a ductless AC in a single day. As such, you won't have to worry about a crew taking over your home.
Just schedule the appointment, and your HVAC specialist can have your new system up and running fairly quickly.
Ductless Air Conditioners are Easy to Maintain
In addition to being easy to install, ductless ACs are also relatively easy to maintain. Typically speaking, the only maintenance a ductless AC needs is a filter change from time to time.
On occasion, you might need to clean the system as well. However, this only needs to be done once every few years, and it's generally very straightforward.
Ductless Air Conditioners are Energy Efficient
As far as energy efficiency goes, ductless air conditioners are at the top of the list. Why is this? Because they don't have any air ducts, and it's the ducts that are responsible for the greatest amount of energy loss.
As an air duct system gets older, it tends to shift and form leaks. In short, if you want to use as little energy as possible, you should consider making use of a ductless mini-split air conditioner.
Ductless Air Conditioners are Quiet
One of the issues with central air conditioners is that their condensers are large, and they can make a good amount of noise when they operate. As such, if you're hanging out around the condenser, you're bound to notice its loud and annoying whirring sound.
This is not true of ductless air conditioners. Ductless ACs have small condensers, and therefore, they make very little noise in comparison.
Need the Help of an Ocala Air Conditioning Company?
Is a ductless air conditioner right for your home? Are you looking for a reputable Ocala air conditioning company to install one for you? If so, the experts at All American Air & Electric are the people to see.
We offer only the best in ductless air conditioners, and we've installed them in thousands of homes throughout Ocala, Florida. Regardless of your heating and cooling needs, our team can accommodate you.
Contact us today to schedule an appointment!