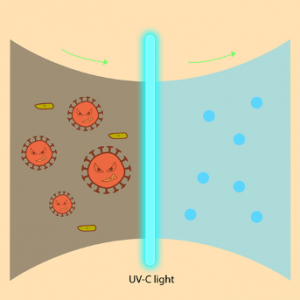 As time passes, a home environment can become filled with a number of different contaminants. Air contaminants can have serious adverse effects on a home, causing it to feel uncomfortable and, in some cases, causing allergies to flare up.
For this reason, it's important that you take measures to keep your home environment sanitized. One of these measures is to install ultraviolet lights. Curious as to how ultraviolet lights can improve your home's air quality? Then read below. We're going to explain everything you'll need to know.
How Do Ultraviolet Lights Work?
Ultraviolet lights cleanse the air by severing the ties around individual molecules. This enables them to destroy bad molecules, such as those contained in mold, viruses, and bacteria in general. 100% safe, they're great for maintaining a baseline of cleanliness in the home.
Where are Ultraviolet Lights Installed?
Ultraviolet lights can be installed anywhere. However, they're most effective when they're installed on the insides of your air ducts. This way, they're able to come into contact with every contaminant in their general proximity.
If you're interested in having ultraviolet lights installed in your air ducts, give us a call. We can make it a reality.
The Cleansing Benefits of UV Lights
UV lights provide a number of cleansing benefits. We'll discuss the most prominent of these benefits below:
Eliminate Germs
Germs are always present. Whether they come via viruses like the flu, or just bacteria in general, they can cause a number of health issues.
Unfortunately, it's not always easy to eliminate all germs at all times…unless you have UV lights installed in your home. UV lights kill any germs in their general proximity, creating a much cleaner and safer home environment.
Destroy Mold
If a home is subject to moisture (whether it be through flooding or high humidity), it will eventually start to take on mold. This is because mold spores thrive in moist environments.
Fortunately, this is an area where UV lights can be a big help. No, UV lights won't destroy moisture in the air. However, they will destroy the mold spores that are attracted to this moisture, allowing for a more breathable and allergy-free environment.
Reduce Odors
As time passes, homes can become filled with a variety of contaminants. These run the gamut from pet dandruff, to mold, to dust, and much, much more. Not only can these contaminants cause a home to feel uncomfortable, but they can also fill it with nauseating and undesirable odors.
Fortunately, installing UV lights is a great way to help combat these odors. Because UV lights help to destroy many of the contaminants that cause these smells, they can effectively reduce these smells as well. The key is to install the UV lights in your air ducts so that they can come into contact with every single contaminant your home contains.
Require Very Little Maintenance
Generally speaking, UV lighting systems don't require much in terms of maintenance. A typical UV light lamp should last for around 10,000 hours. That's about 400 days.
In other words, you'll really only need to think about your UV lights once a year. All you'll have to do is make a lamp change, then wait another 400 days.
Air Purification and (UV) Ultraviolet Lights Company in Ocala
Are you looking to install ultraviolet lights or other air purification systems in your Ocala, Florida home or business? If so, All American Air & Electric has you covered.
We've installed ultraviolet lights in a number of properties throughout the Ocala, Florida area. We would be happy to help create a clean and safe environment in yours as well.
Contact us today to get the process started!