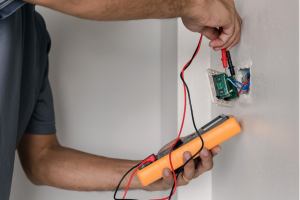 Electrical systems are fairly complex and, while they're generally very reliable, they can still experience issues from time to time. As such, it's important to have them inspected by a licensed electrician every once in a while. An electrical inspection will not only ensure that the system is still operating optimally, but that it's safe to be around.
Are you curious as to whether your electrical system needs an inspection in Fort Pierce, Florida? Then read below. We're going to discuss a variety of situations that would call for an electrical inspection.
Are You Adding Another Room to Your House?
Perhaps you're planning on adding a new bedroom or sunroom to your house? Maybe you're installing a game room? Regardless, if you're adding another room onto your home, you're going to want to bring an electrician in for an inspection.
Why? Because, when you add a new room, you're also implementing new electricity. As such, to ensure that this electricity is optimally safe and functional, it's strongly recommended that you have it inspected by a professional. He or she can then make any changes as needed.
Did You Just Finish DIY Electrical Work?
Maybe your electrical system was ailing in some way, and you took it into your own hands to fix the problem? If so, even if things appear to be okay for now, it would be wise to bring in an electrician for an inspection.
Yes, you might have made a proper fix. However, unless you have thorough electrical experience, there's no way for you to know for sure. An electrician can check your work and ensure that everything is operating safely.
Have You Been Experiencing Electrical Problems on a Consistent Basis?
Though electrical problems are bound to pop up on occasion, they shouldn't be presenting themselves on a consistent basis. For instance, if the power in your kitchen goes out every time you turn the blender on, you almost certainly have a problem that needs to be repaired.
It's best that you call your local Fort Pierce electrician and bring him or her in for an inspection. He or she will assess not only the problem at hand, but any other areas that might lead to problems in the future, ensuring that your electrical system is running at its maximum capacity.
Has It Been a While Since Your Electrical System Was Last Inspected?
Generally speaking, it's wise to have your electrical system inspected every three years or so. If it's been longer than three years, you should start to think about scheduling an inspection sooner rather than later.
An inspection will give you the opportunity to discover and repair any damage that might exist before it turns into a major problem. You never know what your electrical system could have been exposed to over a five to ten-year span.
Was Your Home Recently Subject to Extreme Damage?
Maybe you recently experienced a flood in your home? Perhaps it partially caught fire? In any case, if your home was subject to extreme damage, it's important that you have an electrical inspection done.
Electrical systems are hidden behind walls and ceilings, so you won't necessarily be able to see the damage that was done to them. An electrical inspection will allow you to identify and fix any problems that might have arisen.
In Need of an Electrical Inspection in Fort Pierce, Florida?
Are you in need of an electrical inspection in Fort Pierce, Florida? If so, the professionals at All American Air & Electric can help.
We have inspected countless electrical systems throughout the Fort Pierce area and beyond. Our electrical contractors can ensure that your system is running optimally.
Contact us today to schedule an appointment!