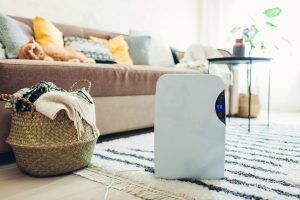 Does the air in your home tend to get stale? Are you looking for a way to optimize the comfort of your home environment? If so, you should consider installing an air purifier in your Marion County home.
Air purifiers are highly effective and extremely beneficial. Curious as to how they can help improve your living space? If so, then you've come to the right place. We're going to discuss their benefits below.
The Benefits of Air Purifiers in Marion County, FL
There are many benefits of air purifiers. Some of the most prominent air purifier benefits include the following:
Reduced Risk of Allergies
Air purifiers work by removing contaminants from the air. In doing so, they eliminate a variety of allergens, including but not limited to dust, mold spores, and pollen. By installing an air purifier in your home, you can greatly reduce the risk of your allergies flaring up.
No more red eyes, no more runny noses, no more rashes, no more sneezing or cough — just clean, breathable air that is free of troubling contaminants. Call us today to discuss your air purifier options.
Neutralization of Viruses and Bacteria
Bacteria and viruses are constantly inundating the air, which can cause a range of illnesses. At the present, COVID-19 is a big concern. Want to keep COVID-19 and other viruses out of your home? An air purifier is an excellent solution.
Air purifiers are designed to neutralize viruses and bacteria the second they enter their functional range. In doing so, they create a much healthier and more comfortable environment overall. Don't allow yourself to become exposed — be proactive by installing a high-powered air purifier in Marion County.
Elimination of Insects
Air purifiers can also be used to repel insects. Not only do they help prevent small insects like mosquitoes and mites, but, due to the scents that they release, they also tend to scare away larger insects like flies and centipedes.
This can be a huge benefit in a place like Florida, where the humidity is high and where bugs often find their way inside homes.
Cleaner Air
Simply put, air purifiers produce a cleaner form of air. Running an air purifier allows you to breathe easier and feel better about your environment. This can have massive benefit not only for your physical health, but for your psychological health as well. This feel-good effect alone can be enough to make an air purifier a solid purchase.
Warrior Purifiers in Marion County from All American Air & Electric
There are all sorts of air purifiers on the market, but if you're looking for the best of the bunch, then you should consider the Warrior IAQ Air Cleaner. This high-powered filter catches even the smallest contaminants, leaving indoor environments feelings clean and sanitary.
The Warrior makes use of a UV-reactive filter. This antimicrobial filter neutralizes everything from mold spores, to bacteria, to dust mites, and more. 97% effective, it eliminates particles as small as 0.3 microns.
It comes with a lifetime warranty, and it is exceedingly low maintenance. In most cases, its filter only needs to be changed every 3 to 6 months. Quick and easy to install, it can be set up within just a few hours.
Looking for an Air Purifier in Marion County?
Are you interested in installing a Warrior IAQ air purifier in Marion County? If so, we here at All American Air & Electric are ready to serve you.
We have installed Warrior air purifiers in countless homes and businesses throughout Central Florida, helping people enjoy a higher level of air quality. Our team would be happy to help you as well.
Contact us today to begin the process!