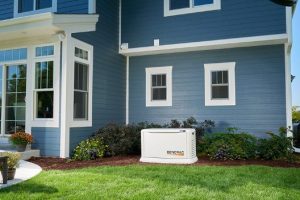 Home electrical systems are designed to thrive through adverse conditions. Unfortunately, however, they can still go out from time to time, temporarily limiting the functionality of the home as a whole.  For this reason, it's wise to have a home backup generator on your Ocala property. Are you interested in having a backup generator installed? If so, and if you're looking for the best generator possible, then there's no need to look any further than a whole home Generac generator.
Looking to learn more about them? If so, then you're in the right place. This blog has all the information you'll need to know.
Highly Durable
Not all generators are created equal. Whereas some will buckle under the pressure of rain, heat, and sunlight, others are built to thrive through these conditions while providing decades of use.
Whole home Generac generators fit into the latter group, thriving for around 30 years. Designed to provide around 3,000 hours of power, it should easily accommodate your home for the foreseeable future.
Warrantied
Though they're built to last through decades and decades of use, whole home Generac generators come with a warranty. Most of them are warrantied for three years, with defects in construction and materials being covered entirely. However, extended warranties can be purchased.
Connected to Gas/Propane Line
A whole home Generac generator is not the same thing as a small, portable unit. These Ocala home backup generators are designed to stand strong for the entirety of their use, never moving from the location where they're installed.
The benefit of this is that they can be connected directly to a home's gas or propane line. That way, when a power outage occurs, there's no need for you to retrieve and dispense fuel. Your generator will be all set and ready to run.
Hooked Up to the Electrical System
When you buy a portable generator, it can generally only be hooked up to a limited number of appliances. This greatly limits your ability to power your entire home during a power outage.
Whole home Generac generators, on the other hand, are hooked up directly to their corresponding homes' electrical systems. This enables them to power the entire home, allowing the home to operate as usual during even the most severe storms.
Automatic Turn-on
You're not always going to be around when power outages occur. Fortunately, a whole home Generac generator can be around for you. Generac's whole home generators possess automatic turn-on capabilities, and they will fire up the second an outage occurs.
As such, you won't have to worry about your refrigerator food thawing, or your sump pump failing. Your generator will ensure that everything remains operational.
Mobile Monitoring
Whole home Generac generators come with the most sophisticated technologies, including mobile monitoring systems that allow users to check on their status from computers and smartphones. These systems are employed by Mobile Link, and they help ensure that your power is always backed up properly.
Attractive Aesthetic
Though the look of your generator might not be a huge concern, the fact of the matter is that it can have an impact on the aesthetic of your property. After all, your generator might be located out in the open directly outside of your house.
Fortunately, whole home Generac generators have a relatively attractive aesthetic, and they can be integrated smoothly into a landscape without disrupting the overall look of your property.
Looking to Install a Whole Home Generac Backup Generator in Ocala Florida?
Is a whole home Generac generator right for your home or business? Looking to install a backup whole home Generac generator in Ocala Florida, specifically? If so, we here at All American Air & Electric are here to help.
We've installed whole home Generac backup generators in countless Central Florida homes and business properties. Regardless of your generator needs, we can help you.
Contact us today to discuss your needs!