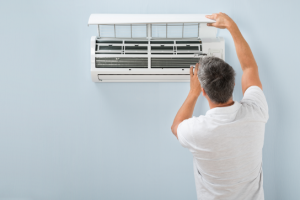 The hot season is in full swing. If ever there were a time to install a new air conditioner, now would almost certainly be that time. Are you interested in installing an air conditioner? If so, you have a few different options to choose from.
Of these options, central ACs and ductless mini-split systems are the most popular. Note, however, that while the central AC has traditionally been the most sought-after, ductless mini-split systems are growing in popularity every day.
Are you considering a ductless mini-split system? Looking to learn more about this type of system? If so, you're in the right place. This Ocala air conditioning installation and repair company has you covered.
How Do Ductless Mini-Split Air Conditioners Work?
Ductless mini-split air conditioners work in the same general way as central air conditioners. Specifically, they pressurize gas with the help of a condenser, then use that same condenser to turn that gas into cool air.
One of the main differences between the two systems, however, is that while the central AC condenser isn't directly connected to the blower of the AC (they're separated by a duct system), the ductless AC condenser is. As such, ductless mini-split systems are much more compact than central AC systems.
How are Ductless Mini-split Systems Installed?
Whereas central AC installation can be quite arduous, ductless mini-split installation is relatively simple. It begins with the HVAC technician cutting a unit-sized hole in the wall of the room where the AC will be installed.
After that, the technician mounts the AC into the wall. When doing this, he or she ensures that the condenser portion of the AC is on the exterior of the home, while the blower portion of the AC is on the interior of the home.
Finally, the technician insulates and seals the remaining area, ensuring that it maintains energy efficiency. Generally speaking, the entire process can be completed within a day.
What's the Difference Between a Ductless Mini-split Air Conditioner and Central Air Conditioning?
As we briefly mentioned above, the thing that separates ductless mini-splits from central AC is the use of air ducts. Note, though, that there are some other differences as well.
For example, while a ductless mini-split is better at accommodating single, individual rooms, central AC is better at accommodating whole homes. We should also mention that ductless mini-splits tend to offer greater energy efficiency than central AC systems. Why? Because forced air produced by mini-split systems doesn't have to travel as far, resulting in less air loss overall.
How Much Do Ductless Mini-split Systems Cost?
If you're purchasing only a single ductless mini-split, the average unit costs somewhere between $750 and $1,500.
It's important to note, however, that if you wish to cool any more than two rooms in your house, utilizing ductless mini-splits can actually be quite expensive. Why? Because a central AC (which can cool a whole home) can usually be installed for between $2,000 and $4,000.
How Long Do Ductless Mini-splits Last?
You'll be happy to hear that ductless mini-splits actually have a terrific lifespan. Most can reach 20 years of age, with some exceeding that by as much as 5 additional years. Comparatively speaking, central ACs tend to last for 10 to 15 years.
Need the Assistance of an Ocala Air Conditioning Company?
Are you interested in installing a ductless mini-split air conditioner? If so, and if you're looking for a reputable Ocala HVAC company, All American Air & Electric has you covered.
We are the premier air conditioning company in the Ocala area, having installed ductless mini-split systems in countless homes throughout the area. Regardless of your needs, our licensed technicians can accommodate you.
Contact us today to begin the process!