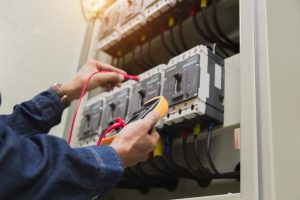 Though today's electrical systems are generally exceedingly reliable, they're not exactly perfect. Depending on specific situations, they could still encounter anything from power surges, to outages, and much more.
The good thing when it comes to power surges, however, is that there are protection implements available. Curious as to what these protection implements are? The answer: surge protectors.
Are you interested in learning more about surge protection? Then read below. This electrician company, serving The Villages, has you covered.
What Causes Power Surges?
If you want to understand the importance of surge protection, it's important that we first explain what causes power surges. These spontaneous shots of electricity can be caused by a variety of different factors. However, the most common factors include the following:
Power Outages
One of the main causes of power surges is power outages. In some cases — like when your electric company transports your electricity supply from one grid to the next — the electricity that runs into your home will experience a jolt, which results in a surge of energy through your home's wiring.
Lightning Storms
As a resident of The Villages, you've almost certainly experienced a thunderstorm and seen lightening crashing down all over the place. Unfortunately, these bolts of lightning can crash down and hit power lines. Though it's not necessarily the case, in many cases, this can result in a power surge. The bolt adds electricity to the line, which then transfers the power to the wires that are connected to it.
Overburdening an Outlet
In some cases, overburdening an outlet can cause a power surge. This would include, for example, plugging 6 or more appliances into a single outlet by way of an extension cord. Outlets can only handle so much electricity. You'll want to make sure that you don't run too many electronics through a single outlet.
Power Supply Malfunctions
Though it doesn't happen frequently, in some cases, the electric company itself sends too much power to a specific electrical system. This results in a power surge, which poses a danger to the home and those inside of it.
Options for Surge Protection
Generally speaking, there are 2 surge protection options available. These include individual outlet surge protection, and whole-house surge protection. We'll discuss the specifics of both below.
Individual Surge Protectors
Are you only looking to protect the appliances connected to a single outlet? If so, you can make do with an individual-outlet surge protector. These are essentially just power strips with surge protection capabilities. They're commonly used to protect computers, but they can be used for essentially any electrical appliance.
You can find these surge protectors both online and at big box stores. Generally speaking, they only cost around $20.
Whole-Home Surge Protection
Are you hoping to protect every appliance in your home, as well as your home in general? If so, you should consider implementing a whole-home surge protection device. These types of devices are equipped directly to the electrical systems within residences and commercial properties. They operate essentially by stopping power surges before they can begin. As you might suspect (by the name), one device will cover an entire home or building.
Looking for a The Villages Electrician?
Are you looking to implement surge protection in your The Villages home or business? If so, the electrical contractors with All American Air & Electric are the people to call.
Skilled, licensed, and experienced, our team knows everything there is to know about installing surge protection devices. We would be happy to improve the safety and functionality of your home and its electrical system.
Contact us today to schedule an appointment!