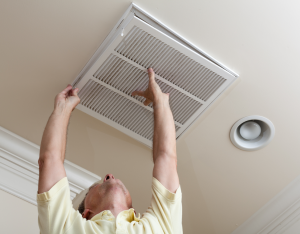 Air conditioners are fairly resilient machines. They are designed to thrive through all types of conditions, providing cold air for anywhere from 10 to 20 years. However, in order for them to do so, it's important that they are properly maintained.
Need help with the maintenance of your air conditioner? This Ocala air conditioning company is going to provide you with all the information you'll need to know.
Clear the Condenser Area
Because it exists outside, the air conditioner condenser is constantly subject to a number of objects and residue. These vary from sticks, to grass clippings, to leaves, to stones, and much more. Unfortunately, they all have the ability to damage the condenser and, therefore, the air conditioner as a whole.
For this reason, every month or so, it's wise to clear any unwanted items from the condenser area. In some cases, you might even need to remove the top screen, particularly if a stick or a rock has fallen into the condenser body.
Are there any hedges or branches in close proximity to the condenser area? Make sure that there is at least five feet of clearance between them and your condenser. 
Scrub the Evaporator Coils
Evaporator coils are vital in producing cold air within your AC. The problem is, over time, they become subject to a great deal of dirt and grime. At some point, they can become so dirty that they cease to function as intended.
Because of this, it's recommended that you have your evaporator coils scrubbed every six months or so. A licensed AC technician will turn the AC off, gain entry to the condenser, and scrub the coils with a hard thistle brush and an evaporator coil cleaner.
One thing to note here is that, in some cases, evaporator coils will have passed the point of no return. If this has occurred to your coils, you might have no option but to have them replaced.
Straighten the Fins
On the outside of each AC condenser are a series of thin metal strips. These strips are known as fins, and they are vital in producing cold air.
Unfortunately, over time, these fins may become bent and misaligned. As such, to ensure that they're operating properly, you can manually straighten them every year or so.
This is a fairly simple task. Grab a knife and run it between each fin, ensuring that there is ample space created between each. It's really as simple as that. As always, your local Ocala HVAC company can assist you with this task.
Vacuum Your Vents
Over time, air conditioners take on substantial amounts of dust and debris. While much of this dust and debris is caught by the HVAC air filter, some of it ends up inside of the AC's duct system.
While it's wise to have your ducts cleaned every 1 to 2 years, in between professional cleanings, you can simply vacuum your vent covers. Vacuuming your vents on a regular basis will clear surface-level dust and debris, allowing for air flow to each and every part of your house. 
Change Your Air Filter
As was noted, HVAC air filters take on a great deal of dust and debris. As such, they need to be changed on a fairly frequent basis. If you don't have pets in your home, a change every 2 to 3 months will suffice. If you do have pets, you should consider making a change every month instead.
Utilize the Services of an Ocala Air Conditioning Company
Need help performing maintenance on your air conditioner? Looking to utilize the services of an Ocala air conditioning company? If so, you're in the right place — All American Air & Electric has you covered.
Our team is well-trained in the maintenance of all types of air conditioners. Whether you use central air or ductless mini-splits, we can help.
Contact us today to get started!