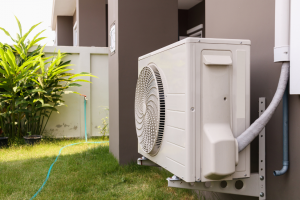 Ocala's short furnace season is nearing its end. It won't be long before we need to fire up our air conditioners again. Is your Ocala home still without an air conditioner? Looking for an upgrade? In either case, now would be the perfect time to make a change.
Wondering what types of air conditioners are available to you? There are quite a few, each of which has different benefits and drawbacks. Read on to find out your options for installing an air conditioner in Ocala.
Central AC
If you're looking for a whole-home cooling solution, installing a central AC is a great option. Working in tandem with duct systems, central ACs deliver cold air to every room in the home. Because they can cover an entire home with a single condenser, they are extremely cost-effective.
However, there are limitations to central ACs. For one, they are complex systems to install. After all, duct systems generally aren't installed in a day. For two, they don't allow for temperature variation. In other words, they only allow you to set one temperature for your entire home; there's no variation from room to room.
All of that said, if you're looking for a long-lasting option, central ACs can get the job done.
Ductless Mini-split System
When it comes to single-room cooling, ductless mini-split systems are ideal. These systems are mounted to walls, offering permanent cooling capabilities. Highly efficient, they experience essentially zero cold loss.
There are some downsides to ductless mini-splits, however. First off, they're somewhat bulky. As such, they can impact the aesthetics of their corresponding rooms.
Second off, when used for whole-home cooling purposes, they're an extremely expensive option. This is because, in order for them to cool an entire home, several of them must be utilized. While one ductless mini-split system is more affordable than one central AC system, four or five ductless mini-split systems would be more expensive than one central AC system.
Looking to Install a New Air Conditioner in Ocala?
Now that we've reviewed your options, you might be interested in choosing one. If so, and if you're looking to install a new air conditioner in Ocala, in particular, we here at All American Air & Electric are the people to see.
We've installed air conditioners in countless homes throughout the Ocala area. Regardless of your needs, we can accommodate them.
Contact us today to request a free quote!