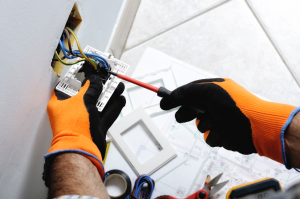 What would the modern world be without electricity? In truth, it wouldn't be the modern world at all. Our world is what it is today because of electricity; and who do we have to thank for that? Electricians!
Electricians can perform a range of electricity-related tasks, ensuring that home and commercial electrical systems are operating efficiently at all times. Wondering what these tasks include? Then read below. Here's what a Marion County electrician can do for you.
Repair Electrical Wiring
Over time, electrical wiring is bound to take on wear and tear. Unfortunately, this wear and tear often leads to functional and safety problems. Fortunately, a licensed electrician will have the experience and wherewithal to solve these problems.
Whether a component of your electrical system is entirely dysfunctional, or it's just displaying spotty functionality, a licensed electrician will be able to fix the issue for you.
Install Specialized Appliances
Maybe you're looking to install new lighting? Perhaps you're looking to put a hot tub in your backyard? Whatever the case may be, if you're looking to install a specialized electrical appliance, it's recommended that you call an electrician.
Unfortunately, this isn't as simple as plugging something into an outlet. In most cases, you are going to need entirely new electrical work implemented. The best way to ensure that it's done safely and correctly is to utilize the services of a Marion County professional electrician.
Implement Surge Protection
Electrical systems are designed to hold a specific amount of electricity at one time. Unfortunately, in some cases, electricity is allowed to flow through an electrical system at a rapid pace, causing damage not only to the system itself, but to the appliances that are connected to the system.
These rapid flows of electricity are known as power surges, and they should be avoided at all costs. Fortunately, there's a fairly easy way to avoid them. All you have to do is implement surge protection.
While you can implement surge protection in individual outlets with the use of surge protector power strips, the only way to implement surge protection throughout your entire home is to install a whole-home surge protection device. This project is best handled by a licensed electrician.
Light Commercial Signage
Maybe you run a business? Perhaps you're looking to advertise it with a storefront sign? If so, and if you want that sign to be visible at night, you'll want to light it.
While you could attempt to light the sign on your own, the safer option is to call your local electrician. Electricians are well-versed in the lighting of commercial signs. They can light your sign in a manner that is safe, effective, and long-lasting.
AAAE is an Authorized Generac Dealer
Do you live in a part of town that suffers power outages frequently? Do you manage a business? If so, it would be wise to have a generator on-hand. This way, when power outages happen, you can keep operations moving along.
Whether you're looking for a temporary or permanent generator, your local electrician can help you set it up properly. He or she can ensure not only that it's big enough to accommodate your home, but that it's installed safely and effectively.
Utilize the Services of a Marion County Electrician
Do you require any of the services reviewed above? Are you looking to utilize the services of a Marion County electrician? If so, All American Air & Electric has you covered.
Whether you're looking to install new electrical appliances or are just in need of electrical repair, our team can accommodate you. Experienced, licensed, and insured, we know how to get the job done right.
Contact us today to discuss your needs!