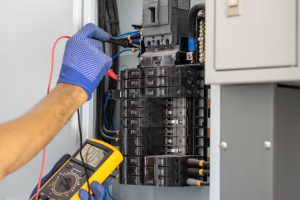 Whether you need an electrical entity installed, repaired, or maintained, a licensed Fort Pierce electrician is the person to call. Fort Pierce electricians are highly knowledgeable when it comes to the operation of electrical systems, and they are well-versed in servicing them.
Are you currently looking for an electrician in Fort Pierce? Not sure what to look for in an electrician? Then read below. This article has all the information you will need to know.
Experience
One of the most important things to assess when looking for an electrician is experience. Generally speaking, the more experience an electrician has, the higher level of service he or she will provide.
While they may be good at what they do, electricians with limited experience have not yet proven their ability to perform high-quality work on a consistent basis. As such, they're risky hires.
It's recommended that you look for an electrician that has at least 2 years of experience. Once that milestone has been reached, an electrician will have proven that he or she can get the job done consistently.
Certification
Certification is important as well. Here in the State of Florida, electricians are required to have state-issued electrician's licenses. If an electrician doesn't have this license, he or she is forbidden from performing work commercially.
Therefore, before speaking to prospective electricians, you should look up their licenses to ensure they're legitimate. You can look them up with the Florida state license lookup tool.
Insurance
Not only do electricians need certification, but insurance as well. Should you utilize the services of an uninsured electrician, you could be held liable in the event that he or she does damage to your property. You could also be held liable for injury that occurs to his or her employees.
In other words, you could end up having to pay substantial amounts of money over an incident that wasn't even your fault. You obviously don't want this to happen.
At the very least, your electrician should have both general liability and workers' compensation insurance. The former will cover damage to your property, while the latter will cover injury to employees.
A Good Reputation
Perhaps the most important thing to look for in an electrician is a good reputation. Generally speaking, if an electrician has a good reputation, he or she will provide good services.
The question is: how do you assess an electrician's reputation? The key is to look up the company on review websites such as Facebook, Yelp, and Google. If reviews are primarily favorable, he or she could be worth a hire. If they're primarily negative, he or she is best avoided.
Reasonable Rates
The last thing you should look for in an electrician is reasonable rates. You don't want to pay a fortune for a service, but you don't want to pay too little either. An electrician with exceedingly low rates almost undoubtedly comes with problems (i.e. lack of experience, shoddy working practices, etc.).
The key is to look up the average electrician rates in your area and find an electrician whose rates align closely to those. You'll likely be able to find a number of them.
Once you've found some viable candidates, we recommend asking for estimates. If an electrician doesn't provide you with an estimate, you shouldn't utilize his or her services.
Hire a Fort Pierce Electrician Today
Are you looking for a reputable Fort Pierce electrician? Look no further than the electricians with All American Air & Electric.
Experienced, insured, and licensed, our electricians are well-versed in the installation, repair, and maintenance of commercial and residential electrical systems. Regardless of your needs, our team is ready to help.
Contact us today to get the process started!