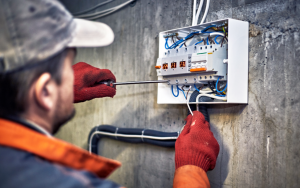 Regardless of the nature of your commercial property, it's bound to run into electrical problems from time to time. When problems such as these arise, there's only one type of person to call: a commercial electrician.
Commercial electricians offer a wide variety of services. Wondering what types of services you can receive from a commercial electrician in Jensen Beach? Here are six of them.
1. Electrical Installation
Perhaps you're adding a new room onto your property? Maybe you're looking to supply an existing room with further power capabilities? If so, your local commercial electrician has you covered.
Whether you're looking to install new wiring, insert new outlets, put in new lighting, or otherwise, if it involves the installation of electrical entities, a commercial electrician can help you. He or she will ensure a safe and effective installation, operating in a quick and efficient manner.
2. Emergency Repair
Have your outlets suddenly started to shock you? Is your circuit breaker on the fritz? If so, and if you're in need of repair as soon as possible, a commercial electrician is the person to call.
The vast majority of commercial electricians provide emergency services, showing up at all hours of the day in order to help their clients. Whether it's 4 in the morning, noon, or 10:00 PM, a commercial electrician can come in and make the necessary repairs.
3. Electrical Inspections
In order to ensure that your electrical system is operating as intended, it's a good idea to have it inspected from time to time. An inspection will not only ensure that the system is up to code, but that it's still safe for use.
If you're in need of an electrical inspection in your commercial property, you're advised to call up a licensed electrician. Commercial electricians know everything there is to know about commercial electrical code, and will have no problem determining the legality, safety, and efficacy of your system.
4. Sign Lighting
Hoping to put a sign up outside of your business? Looking to make it visible at night? If so, you'll need to have it equipped with the proper lighting. This is a job for a commercial electrician.
It doesn't matter whether you run a restaurant, a laundromat, a financial planning office, or otherwise, your local commercial electrician can help you to install a sign that looks great at all hours of the day.
5. Surge Protection
Whether they be from lightning strikes, supplier malfunctions, or otherwise, power surges can and do occur. Fortunately, there is a way to prevent them from causing damage: surge protection.
Regardless of the state of your electrical system, a commercial electrician can help to protect it from power surges. This will vastly reduce the risk of power outages, all while protecting your valuable possessions.
6. Generator Installation
On the chance that your power does go out, you need a backup option—something to keep things operational during work hours. What you need, of course, is a generator.
When you need a generator for your business or commercial property, there's no one better to call than a commercial electrician. A commercial electrician will be able to assess your power needs accurately, ensuring that you get the right generator for your purposes.
Looking for a Commercial Electrician in Jensen Beach?
Perhaps you need to install new electrical wiring? Maybe your existing electrical wiring is deteriorated? Regardless of what the case may be, if you're in need of a commercial electrician in Jensen Beach, All American Air & Electric has you covered.
Our licensed electricians provide all of the services reviewed above, helping Jensen Beach business owners to run their businesses efficiently. Regardless of your needs, our team can accommodate them.
Contact us today to get the process started!