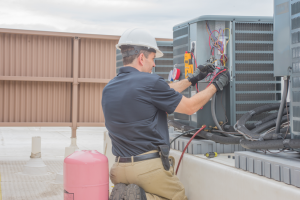 As you likely know, air conditioner season in Jupiter is long. As such, air conditioners generally require some sort of maintenance halfway through the season.
Have you performed maintenance on your air conditioner this year? If not, now is a great time to start thinking about it. A failure to maintain your air conditioner could result in impaired performance and shortened lifespan.
Wondering what midseason air conditioner maintenance in Jupiter, Florida entails? Read below to find out.
Clean the Coils
One of the most important components of air conditioner maintenance is the cleaning of the evaporator and condenser coils. These entities are integral to the operation of an air conditioner, and, when dirty, have a difficult time performing their function as intended.
This is why it's important that you clean these coils on a regular basis. All you need to do is apply a coil cleaner, allow it to sit for around 15 minutes, and then wipe it off. Doing this will remove most of the residue that exists on the coils, allowing them to operate at their max capacity.
Maintain the Area Around the Condenser
Because it exists outside, your air conditioner condenser is vulnerable to a variety of different entities. Everything from branches, to grass clippings, to trash could make their way into your condenser, impairing its performance and reducing its efficiency.
For this reason, it's important that you clean up the area around your condenser. We recommend that you trim trees and bushes, sweep away grass clippings, and inspect for trash regularly. Generally, it's advised to leave at least 5 feet of clearance between the condenser and everything in its proximity.
Change the Air Filter
There's bound to be a great deal of dust and debris making their way into your HVAC system. A good portion of this dust and debris is likely being caught by your HVAC air filter. As such, at this point in the season, your air filter is probably caked with residue.
If you find yourself in this situation, it's time to make a change. Generally, it's recommended that HVAC air filters are changed every 1 to 2 months. It's important that you remember to make these changes now and in the future.
Check for Leaks
Another aspect of air conditioner maintenance that you might want to take care of is to check for leaks outside of your condenser. If there's a leak outside your condenser, it's almost certainly a refrigerant leak, which will need to be taken care of immediately.
Refrigerant is key to an air conditioner's performance. Should it ever leak out of the air conditioning system, it will struggle to produce cold air. This should prompt a refrigerant line patch-up and a refrigerant refill as soon as possible.
Vacuum Your Vents
The last component of air conditioner maintenance that you'll want to carry out is the vacuuming of your vents. Vacuuming your vents will remove a small bit of the dust from your ducts, reducing buildup within them. While it's not as effective as a full duct cleaning, vacuuming the vents does help to maintain the ducts between cleanings.
It's recommended that you have your ducts cleaned at the end of air conditioner season, as it will improve both the air quality in your home, and the efficiency of your furnace this winter.
In Need of Professional Air Conditioner Maintenance in Jupiter?
Does your air conditioner require maintenance? In need of professional air conditioner company in Jupiter? All American Air & Electric has you covered.
Our team of licensed HVAC specialists is well-versed in the maintenance of air conditioning systems. Regardless of the make and model of your AC, we can help you.
Contact us today to get started!