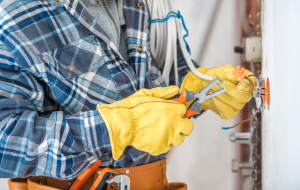 A home's electrical system is integral to its overall operation. If it were to become impaired, its corresponding home would suffer mightily. For this reason, it's important for a homeowner to keep tabs on it at all times.
In the event that you encounter a problem with your electrical system, you will likely need to call an electrician. Are you wondering when a visit by a Stuart Florida electrician is necessary? Here are the top indicators.
1. Your Lights Flicker on a Regular Basis
A fairly sure sign that you require the services of an electrician is if your lights flicker on a regular basis. While a light flickering from time to time isn't a major cause for concern (especially during a storm), a light flickering several times a week is almost certainly indicative of a problem with your electrical system.
Lights can flicker for a number of reasons, but the most common of these reasons is loose or deteriorated wiring. In any case, if you notice regular flickering, we recommend bring in an electrician sooner rather than later to inspect the problem.
2. Fuses Blow Frequently
Another sign that you should give your electrician a call is if your fuses are blowing frequently. While a blown fuse here and there is not always worrisome, regularly blown fuses are indicative of a serious electrical problem.
Fuses can blow for a number of reasons, including short circuits, overloaded circuits, and ground faults, to name just a few. If they seem to be blowing for no reason at all, you'll need to get to the bottom of the problem. An electrician can help you do so.
3. Your Outlets are Sparking
Under no circumstances should your outlets ever be sparking. A sparking outlet is a safety hazard, which could have dire consequences if not corrected.
There are a number of causes for sparking outlets, including short circuits, water damage, and deteriorated wiring. Each of these problems is serious, and they should be assessed by a professional electrician as soon as possible.
4. Your Appliances are Buzzing
Do you ever hear a buzzing sound coming from your outlets? If so, you should know that there's nothing normal about it. It is indicative of an electrical problem that needs to be corrected.
Outlet buzzing can come from a number of different sources. In some cases, deteriorated wiring is to blame. In other cases, an appliance that is plugged into the outlet is to blame.
First, try removing the appliance connected to the buzzing outlet. Then, plug a different appliance in. If the outlet continues to buzz, you should unplug it and call a licensed electrician. He or she can assess the problem from there and carry out any necessary repairs.
5. Your Outlets are Hot
When you touch one of your active outlets, does it feel hot? If so, it's likely experiencing an underlying problem that needs to be inspected by a professional electrician.
Outlets can become hot for a number of reasons, including loose wiring, deteriorated wiring, and short circuits. Unfortunately, all of these problems can lead to house fires. For this reason, it's strongly recommended that you handle them swiftly.
In Need of a Stuart Electrician?
Is your electrical system demonstrating any of the above-reviewed signs? In need of a Stuart electrician? If so, the electricians with All American Air & Electric are the people to see.
Our electricians are well-versed in all aspects of electrical installation, maintenance, and repair. Regardless of your problem, our team can handle it.
Contact us today to discuss your commercial or residential electrical needs!