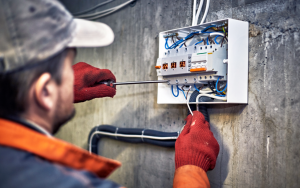 As far as residential and commercial electrical systems go, there's no one better to call than an electrician. Professional electricians are trained to handle a range of different electrical issues and are capable of accommodating them in a safe and efficient manner.
Wondering what exactly a Vero Beach electrician can do for you? Read below to find out!
What Can a Vero Beach Electrician Do for You?
Electricians are capable of completing many electricity-based tasks. Some of the more common services of electricians include the following.
Install New Electrical Wiring
Perhaps you're adding a room onto your home? Maybe you're finally ready to supply light to your basement? In any case, you have a need to install new electrical wiring. While you could attempt to do this on your own, you should know that it's probably not going to be an easy task.
Installing electrical circuitry in a safe and proper manner requires a good deal of technical knowledge. Most DIYers simply don't possess this knowledge.
Who does possess the knowledge? Professional electricians! A professional will install your new electrical wiring in the optimal manner, ensuring that it's both safe and effective.
Install New Electrical Appliances
Plugging in a refrigerator or microwave should be a fairly simple task. However, if your electrical system is not equipped to handle these appliances, problems can arise. For this reason, when installing new appliances, it's sometimes wise to call an electrician.
A professional electrician can alter your electrical system so that it's optimized for use with powerful appliances. These alterations will not only ensure the safety of your system, but it can reduce the risk of short circuiting and blown fuses as well.
Supply Surge Protection
Want to protect your most expensive electronics from power surges? If so, you should call your local electrician. Professional electricians are well-versed in power surge protection, with knowledge of both individual and whole-home protection devices.
While there are power surge protectors available for purchase in stores, they pale in comparison to the protection offered by professionals. If you really want to keep your possessions safe from harm, professional electrical assistance is the best option.
Provide Sign Lighting
Are you opening a new bar or restaurant? If so, you might have a need for an electrical sign. After all, an electrical sign will help you attract customers from the road.
Professional electricians are well-versed in the illumination of commercial signs. If you want your sign lit up the right way, professional electrical services are the way to go.
Provide Generators
There are few things in life worse than power outages. Fortunately, you can get through these situations with the use of generators.
If you don't feel like buying a generator, you could rent one instead. Electricians not only rent out generators to customers, but they also install them as well. The next time you're left in the dark, your local Vero Beach electrician can help.
Vero Beach Electrical Repairs
Over time, wiring deteriorates, outlets go bad, and electrical problems occur. Whenever you're facing an electrical problem, there's one person you should call: your local electrician.
A licensed electrician will come to your home, identify the source of your problem, and right any wrongs that may exist. When all is said and done, you'll have a safe, operational electrical system once again.
Looking for an Electrician in Vero Beach?
Do you require one of the services discussed above? Looking for a reputable Vero Beach electrician? If so, All American Air & Electric is the company to call.
In business since 1996, we've performed electrical work on a range of properties throughout Vero Beach and its surrounding areas. Regardless of the services you require, our team can accommodate you.
Contact us today to discuss your electricity needs!