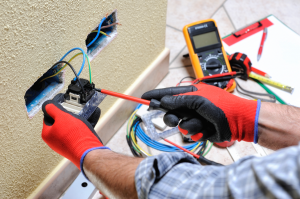 Looking to add electrical wiring to your home? Maybe you're in need of an electrical repair? Regardless of what the case may be, you need the services of a licensed electrician in Vero Beach, Florida.
Now, all you have to do now is find one. The question is: how do you find the right one?
Finding a reputable electrician takes a little bit of research, but, overall, it's fairly easy. In most cases, if you follow the tips below, you'll be able to find a legitimate and competent electrician.
1. Assess Experience
One of the keys to finding a reputable electrician in Vero Beach, Florida is to assess the experience level of each electrician you come across. Generally speaking, an electrician with more experience will provide a greater level of service than will an electrician with less experience.
While a less experienced electrician might be able to carry out good work, you don't want to risk your time and money on it.
2. Read Some Customer Reviews
One of the most important things to do when searching for an electrician is to read some customer reviews. By doing so, you will be able to gain a grasp of a specific electrician's reputation. This is generally all that's needed to determine whether or not he or she can get the job done correctly.
Online review sites to check out include Yelp, Facebook, and Google, to name just a few. If reviews on these sites are primarily positive, you're likely looking at a reputable electrician. If they're primarily negative, you're probably looking at an electrician who should be avoided.
3. Find Out About Insurance
When hiring an electrician, it's vital that he or she has insurance. If you hire an uninsured electrician, you could be held liable not only for damages that he or she causes to your property, but for injuries that occur to his or her employees while on your property.
Electricians, at a minimum, should have two types of insurance: general liability insurance and workers' compensation insurance. If your prospective electrician doesn't have these insurances, you should start looking for a different one.
4. Ensure Certification
In order to become an electrician in the State of Florida, one must take an exam and become certified with the state. If an electrician does not hold certification with the state, he or she is operating illegally and should be avoided.
Wondering how you can tell whether or not a specific electrician is licensed? You can simply utilize the Florida license lookup tool.
5. Ask About Costs
The last thing to do when looking for a licensed electrician in Vero Beach, Florida is to ask about costs. While most electricians will charge comparable rates, you can never be too sure of what your specific electrician will charge. If you don't ask about his or her rates, you could end up getting slammed with a surprisingly large bill.
Any reputable electrician will provide you with a cost estimate of needed services upon request. If a prospective electrician doesn't provide you with an estimate, you should avoid using his or her services.
Utilize the Services of a Reputable Electrician in Vero Beach Florida
Chances are, if you're reading this blog post, it's because you're looking for a licensed and reputable electrician in Vero Beach Florida. If so, there's no need to look any further—All American Air & Electric has you covered.
Featuring a team of licensed and experienced electricians, we're well-versed in electrical installation, repair, and maintenance processes. Regardless of your electricity needs, we can accommodate them.
Contact us today to schedule an appointment!