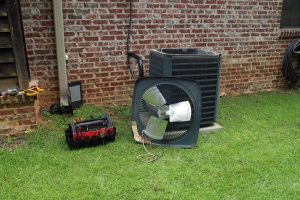 It's fairly rare that an air conditioner will experience a problem. Air conditioners are reliable machines that tend to thrive through even the worst of circumstances.
Nonetheless, air conditioner problems do arise, and when they arise, they typically need to be handled in a timely fashion. Failure to quickly fix an air conditioner problem can not only result in the problem getting worse, but in the complete breakdown of your air conditioner.
The question is: what does an air conditioner repair problem look like? There are a few different signs that your AC is on the fritz. Here are five of the most common signs that you require air conditioner repair in Jensen.
Unorthodox Noises
The only noise an air conditioner should be making is a faint whirring noise caused by its condenser blades. If it's making any type of noise aside from this, it has likely encountered a problem of some kind.
For instance, while squeaking noises are typically indicative of a loose belt, thudding noises are typically indicative of something impairing the inside your air conditioner condenser. Regardless of what strange sound you're hearing, it's best to have it checked out by a professional HVAC technician. He or she can get to the source of the noise and solve any existing problems.
Slow Cooling
Does it seem like you have to wait all day for your air conditioner to cool your home? If so, it is probably in need of a repair.
The temperatures created by air conditioners should match their corresponding thermostats within 30 minutes to an hour of adjustments. When air conditioners aren't able to do this, it's likely due to either a dying motor or clogged air ducts. In either case, a repair will likely need to be made.
Thermostat Inconsistencies
Perhaps your thermostat indicates a different temperature than what your air conditioner is creating? If so, you would be wise to have it checked out by an HVAC specialist.
Thermostat inconsistencies can come about for a variety of reasons. Sometimes, it's due to a poor connection between the thermostat and the AC sensors. In other cases, it's clogged air ducts. In rare cases, the positioning of the thermostat is the problem.
Short Cycling
In order for an air conditioner to cool a home, it must go through a full cooling cycle. Unfortunately, when an air conditioner becomes impaired, this cycle can be cut short, resulting in a problem known as short cycling.
If your air conditioner stops blowing almost as soon as it starts (it should blow for about 10 to 20 minutes at a time), it's likely experiencing this problem and requires immediate attention.
Refrigerant Leakage
Another sign that you require immediate air conditioner repair services is if your air conditioner condenser has sprung a leak. Air conditioners make use of a liquid called refrigerant. When the refrigerant line leading from the condenser to the corresponding home becomes damaged, this refrigerant can leak out.
Unfortunately, air conditioners can't produce cool air without refrigerant. Therefore, until you get the leak patched up, and until you supply your air conditioner with new refrigerant, you're going to be stuck with a warm home.
In Need of Air Conditioner Repair in Jensen?
Is your air conditioner struggling to cool your home? In need of air conditioner repair in Jensen? If so, the HVAC technicians with All American Air & Electric are the people to see.
Our technicians are fully licensed and have repaired countless air conditioners throughout the Jensen area. Regardless of the type of problem your AC is experiencing, we can correct it.
Contact us now to begin the repair process!